Oakland artist repurposes trash into vibrant houses for the homeless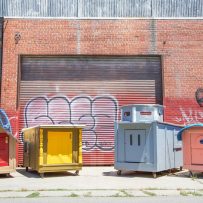 The necessity to shelter the homeless is a prevalent and widespread reality for many urban areas, including oakland, california, the hometown of american artist gregory kloehn who is using his creative capacity as an action for change. as the founder of the 'homeless homes project' — a community driven initiative — kloehn has realized a low-cost, practical and imaginative solution for the construction of habitable shelters for those living on the streets. he combs through heaps of illegally dumped trash, commercial waste and excess household items piled in alleyways and discarded throughout the city, and upcycles the raw materials into walls, roofs, doors, windows, wheels and locks. kloehn describes that adopting the otherwise disused garbage as a medium for architectural development 'diminishes money's influence over the building process' and transforms the rejected debris into an object of hope and happiness.
The small-scale structures are built with a special attention to an animated color scheme and fresh design details. painted in hues like cotton candy pink, canary yellow, sky blue, and hot red, they bring a strong sense of vibrancy and spirit to each individual dwelling. tiny doors are embellished with mirrors and windows, transmitting daylight into the mobile habitat, while locks equipped on the entryways bring a sense of security and privacy to the residents.
Smart use of materials and clever reinterpretations of the trash supplies constitute rain proof roofs — formed from discarded plastic sheeting — windows — made from a washing machine door — and skylights — fashioned from wooden pieces. all homes are mobile so that they can accommodate the nomadic lifestyle of homeless residents while avoiding the complexities of permanent structures.
All images courtesy of brian j reynolds