NOW IS THE TIME TO LEVERAGE TECHNOLOGY AND COMMUNICATION FOR A BETTER, SAFER EXPERIENCE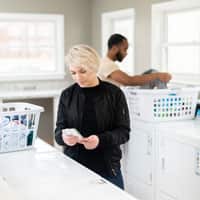 Through the first round of COVID-19, businesses were forced to stay flexible and adapt to stay viable. Policy and processes were put in place and perhaps even new technology or equipment was added to enhance safety. Then vaccines were introduced, and we turned a corner. Now it feels the Delta variant has us all dusting off the pivots above and planning additional actions.
Your property's community laundry room is on the front lines of this fight against the virus – clean laundry is more important than ever. So, it's important that your property embrace new technology to keep residents on-site for laundry day and even help attract prospective renters by providing a high-level experience
One simple way to turn the community laundry facility into an even more attractive amenity, one that places a premium on safety, is to leverage the latest in technology to reduce touch points.
Go mobile
A mobile pay solution removes touch points. With a mobile app, residents can even add value to their mobile wallet from their unit before coming to the laundry room. Then, the resident enters the laundry and proceeds immediately to the washer, loads, selects wash, scans the QR code (or selects the machine in-app). Because they have a mobile app, there's no guesswork on when to return to from their apartment; they are alerted by text message. Same on the dry side – limiting exposure to the environment.
App-based payments have quickly caught on in the laundromat world – your competition. By leveraging similar technology to alleviate safety concerns for residents, your property stands a better chance of keeping them on-site on laundry day. As a bonus, you don't have to empty coin boxes on machines, which brings definite time savings.
Communicate often
Technology, however, is just one part of the solution. Property managers should also be focusing on communicating their efforts to keep the laundry a clean safe environment as well as offer guidance on how residents can get the highest level of clean for their loads (remember, premium wash options deliver increased revenue and profits).
Laundry room signage can be a key vehicle to communicate the advanced cleaning efforts of equipment and other surfaces. Consider reminding residents to mask up and observe social distancing. Laundry room signs should also explain the various cycles offered on the equipment in addition to exactly what they get when they select a premium option. This is where controls that clearly explain the cycles and modifiers have an advantage.
Remind residents that hot water washes and high-heat drying cycles still remain the best lines of defense in sanitizing loads in killing bacteria – this is a data point that was important before the pandemic and will be long after. Don't underestimate the value of laundry tips, especially if your residents are younger, first-time renters – we all learned how to laundry at some point. Being a trusted resource will help ensure they get the best results and your equipment is used properly.
Don't forget the basics
While technology and communication are great in providing a valuable service to residents, that experience can be sabotaged if you are not committed to the basics. Setting a regular schedule for cleaning the community laundry room is a must. If residents' first impression is the laundry is dirty, they won't come back and will view it as a reflection of their value in management/owners' eyes.
Empower residents to communicate if they see anything falling below their clean standards. Posting the cleaning checklist with date, time, and initials of person who cleaned also is visible evidence of your commitment.
If your equipment is flexible enough, extend that clean to the washers by programming a rinse between loads. Again, residents will gain peace of mind of the highest level of clean before they load up machine.
Final thoughts
Leveraging control technology and mobile payment, as well as ramping up communication with residents can help ensure their satisfaction with the community laundry facility is high and that they stay on-site on laundry day.
But all those efforts and expenditures on new technology can quickly fall flat if your property isn't up to the challenge of the basic upkeep and maintenance of the community laundry room. With a focus on the little things as well as technology, your property's laundry room can become an amenity to attract and retain residents.
Story by: Huebsch Quantum Gold