Now cheaper to rent than own the average Toronto condo unit, according to a new industry study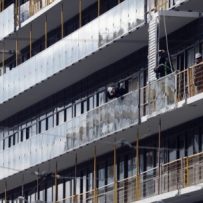 A study by real estate consultant Urbanation and obtained by CBC News shows much of Toronto's high rise construction in 2016 is being fuelled by demand from renters who are either unable or unwilling to pay record prices for real estate.
It's a significant change from the previous decade's boom, which was spurred primarily by demand from would-be owners.
According to the city of Toronto planning department, there were 28 highrise development applications in the first six months of 2016. That's just slightly behind the pace for 2015, when the city received 59 applications for the year overall, and well above the pace in 2013 and 2014, which saw 45 applications each.
Toronto defines a highrise as a building taller than 13 storeys.
Shaun Hildebrand, senior vice president of Urbanation, says developers have applied to build 10,000 rental units in the GTA in past year — 6,000 in the past three months alone. He says half of all new high rise units are now being built for rental purposes.
The demand for rental units is coming from a variety of sources according to the study: millennials who are getting older and want a place of their own, international immigration, and people moving to Toronto from other parts of the country for work.
There's also a big cost factor at play, according to Hildebrand. "Ownership is unfavourable" to many, he says. Despite record low interest rates, the study shows it's actually cheaper to rent the average Toronto condo than it is to carry the monthly costs of ownership. 
Urbanation compared carrying costs for the average-priced 750 square foot condo — worth $397,500 — in the second quarter of 2016. The study used a 25-year amortization, a fixed-rate five year mortgage rate of 2.33 per cent, and assumed a 10 per cent down payment.
The costs for a buyer would be $2,075 a month, including maintenance. The same unit would cost a renter an average of $1,958 — or about $117 less. The study did not factor the value of the asset at the end of the 25 year mortgage.
Hildebrand says renting In Toronto will likely become even more attractive if and when mortgage rates start to rise significantly.
The finances also favour developers and institutional investors like pension funds.
Toronto rental prices have jumped about 20 per cent in the past four years. Even with the high cost of buying land, developing rental units instead of condo sale units is lucrative, Hildebrand says.
Hildebrand notes developers are mirroring what many foreign condo buyers have been doing: renting out their condos. He says developers "are seeing the long term appreciation in rental."