Not enough room: overcrowding in Canadian rentals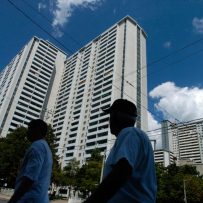 Story by: Leslie Young | Investigative Reporter  Global News
Thousands of Canadian families are feeling squeezed – packing more and more people into small apartments.
According to data from the 2011 National Household Survey, nearly 1 in 5 Toronto renter households are living in overcrowded conditions. In Vancouver, it's 15.6 per cent and in Abbotsford-Mission, 14.9 per cent. Across the country, more than 10 percent of renter households are living in overcrowded homes.
"In a two-bedroom apartment, I've known cases where you have three families living together, so it's an unhappy situation," said S. Gopikrishna, Executive Director of the Scarborough Housing Help Centre. He's seen cases where 16 or 17 people are sharing a space meant for four.
Overcrowding, according to Statistics Canada and the Canada Mortgage and Housing Corporation, is defined as housing which doesn't meet the National Occupancy Standards. These standards require one bedroom for each person in the household, unless they are an adult couple, two children of the same sex under 18 years old, or two opposite-sex children under 5 years old – these people, and only these people, can share a room.
Under these standards, a bachelor apartment is only deemed appropriate for one person.
Percentage of rental households in overcrowded conditions by CMA, 2011
It's hard to tell if the problem is getting worse. Changes to the census mean that figures from 2011 are not necessarily comparable to previous years' numbers. So although according to a United Way Toronto analysis, the percentage of high-rise units in the city where there was more than one person per room increased from 8 per cent to 17 per cent from 1981 to 2006, extending that trend to 2011 would be tough.
Who's living there
A variety of people live in overcrowded conditions, said James Roy, senior policy analyst with the B.C. Non-Profit Housing Association, which has an online index of rental housing affordability in the province.
Roy said that in some cases, it's a large group of students sharing a house. In other cases, it's a multi-generational household, where in some cultures, families might choose to live together in tight quarters. "That's absolutely by choice but it doesn't matter to StatsCan," said Roy.
But, it's not always by choice.
"You can't ignore the effect of poverty on this."
"Families often simply can't afford a unit of an appropriate size. They'll rent a smaller unit as a way to keep their housing somewhat affordable," said Emily Paradis, senior research associate in the faculty of social work at the University of Toronto.
A 2010 survey that her team conducted in high-rises in Toronto's poorer neighbourhoods found that half of households in those buildings were overcrowded, using a threshold of more than two people per bedroom – a standard that's easier to meet than Statistics Canada's.
"In most cases what that looked like was parents and a child or children sharing a one-bedroom apartment," she said.
Newcomers to Canada are particularly likely to end up in this situation, said Gopikrishna.
How they get there
People often settle in neighbourhoods and buildings where there are other members of their community, said Paradis. Also, landlords might ask for Canadian landlord references, which a newcomer can't provide. Without references, they often ask for a guarantor – someone who agrees to pay the rent if the tenant defaults.
"People end up really going above and beyond to help support other families as they arrive, either by performing this role as guarantor or very often, by opening up their homes to newly-arrived families until they can find a home of their own," she said.
The increasing cost of rent also plays a role, said Gopikrishna. "How can lower income and newcomer families keep up with this? And the answer is no, the difficulties that they have in securing employment, gainful employment, remain the same as they were a long time ago."
If newcomers' credentials are not recognized, he said, then they will have trouble getting the kinds of jobs that would allow them to move to a bigger apartment.
"Most families when they first move into those situations tend to think that they will be getting jobs within a few months — three to four months, no more than six months. So the reason that they go onto that inconvenience in the beginning is because they tell themselves it is temporary," he said. Unfortunately, it often doesn't work out that way.
"But then the six months becomes nine months, then the nine months becomes a year. And the year can become five years."
Getting that job is key, he said, and until someone has updated their credentials and been hired, they won't be able to move out – a process which can take much longer than they thought.
Living in close quarters
Overcrowding has negative effects on both the physical environment and the people who live in it, according to Gopikrishna.
"Clearly there's a lot of wear and tear. So what happens is the paint begins to peel, the whole building has got a very sad and tired look," he said.
"And given the fact that there are so many people and they know that they're not supposed to be in these kinds of situations, they are reluctant to go lodge a complaint and ask the property management to improve things. So the situation kind of gets them into, nothing is ever really repaired."
The crowding can sometimes be spotted from outside the building, he said. The balconies are full of stuff. "It could be furniture, it could be cycles, it could be just about anything out on the balcony. And the reason is probably that they're running out of space inside with so many people having to share stuff."
Several families living in the same home can lead to tension too, he said. "These are people who may not be able to get along, but you know very well that you can't leave that space and go somewhere else. So the fact that you don't have very many options and things are getting worse within the household will eventually get to you."
Parents always say that they migrated to Canada to find a better future for their children, he said. But living in that environment could set them back – first, children have no quiet space to study, and they're less likely to do so if there are lots of other kids around to play with, he thinks.
"So what happens is it will eventually hurt the performance of the children who are at school, with the result the main purpose for which they came to Canada has been defeated," he said.
Solving the problem
So how do you solve the problem? More apartments would be a start, said Paradis.
"We absolutely need more affordable rental housing," she said.
"There's just not enough rental housing that's affordable to low and moderate income households."
Cities could require "inclusionary zoning," she said, where new developments have to include a certain percentage of affordable or subsidized units. "I would say this is the most important intervention that could happen at this stage that would provide an immediate or short term solution to this problem."
Gopikrishna is also in favour of mixed housing, and would like to see more basement and secondary suites spread out across the city.
"The issue with affordable housing is that if you put up a huge building which has a reputation for only being for people on limited income, it begins to get a certain kind of reputation. But if you went the mixed housing route, unless you really know the details of your neighbour you won't be able to tell how they are able to fund their living there."
Paradis said that another approach would be to give out a housing benefit: money tied to income, which tenants could spend on whatever housing they wish.
Better employment programs would also help people get out of these tough situations, said Gopikrishna. Finally, he said, more education – on tenants' rights, employment requirements and how to get by in Canada are important too.