Non-resident ownership and participation in B.C., Ontario & Nova Scotia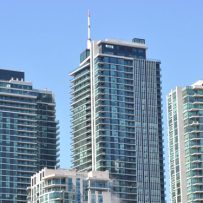 The presence of non-resident owners on Canada's housing market is a subject that continues to generate a lot of interest. Our latest Housing Market Insight (HMI) takes a new look at non-resident ownership. Using data from Statistics Canada, we look at non-resident participation in British Columbia (B.C.), Ontario and Nova Scotia. We also examine the number of owners for each residential property in the 3 provinces.
What is non-resident participation?
A property is classified as having non-resident participation when at least 1 of its owners is a non-resident of Canada.
This means that "non-resident participation" is a broader measure than, "non-resident ownership." The second term is used for a property only when the majority (or all) of its owners are non-residents.
To clarify, let's take a property with 3 owners. Of the owners, let's say 2 are residents of Canada and 1 is a non-resident. This property would have non-resident participation, but not non-resident ownership.
Highlights on non-resident participation
Here's what we found out about non-resident participation in B.C., Ontario and Nova Scotia:
In the 3 provinces, 3.3% to 6.2% of properties have non-resident participation.
Non-resident ownership in B.C. and Ontario is more common in newer properties with higher median assessment values.
In the same 2 provinces, looking at all property types, non-resident ownership and participation are highest in condominium apartments.
In B.C., the percentage of condominium apartments that had non-resident participation was highest in Vancouver. In Ontario, it was highest in Toronto.
Non-resident ownership in Ontario was highest in Kingston, Windsor and St. Catharines-Niagara, all of which are near the United States border.
A look at the number of owners per property
In B.C., Ontario, and Nova Scotia, about half of all residential properties have 2 owners. A slightly smaller percentage have 1 owner. Residential properties with 3 or more owners account for only a small share of residential properties in the 3 provinces:
In B.C., 3.5%
In Ontario, 2.4%
In Nova Scotia, 4.5%
There are, however, differences when the data is broken down by property type and census metropolitan area (CMA).
READ ABOUT NON-RESIDENT PARTICIPATION FROM OUR MARCH 2019 INSIGHT