Non-permanent residents might be the secret ingredient in Canadian housing market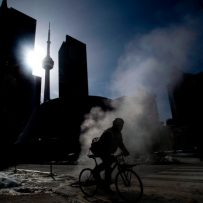 Story by: Garry Marr | Financial Post 
Canada's housing market is now heavily influenced by non-permanent residents, which make up the fastest-growing demographic force in the county, according to a new report.
CIBC World Markets Inc. deputy economist Benjamin Tal says Ottawa needs to consider the impact on the economy of this group before it makes any more changes to the temporary workers program.
"It's not an insignificant element in the mosaic we call the housing market, that's what I'm saying, especially in the rental market," said Tal, in an interview. "You can assume many of these people rent and [that affects] investors and the condo market."
He wrote in his report that non-permanent residents now number almost 770,000, which is a record high. Almost 50 per cent of that figure is made up of workers, with about 38 per cent students. The rest of the group falls into the humanitarian or refugee category.
"The pace at which this category is growing is also unprecedented," Tal wrote, adding that, over the last 10 years, 450,000 non-permanent residents have been added to the country.
Ottawa overhauled the temporary foreign workers program in 2014, establishing restrictions on how many temporary foreign workers could be hired by a single employer, as well as limits on hiring temporary foreign workers in regions of the country with high unemployment rates.
Tal says 29,000 are affected by the change and they are lower skilled workers. He says even if all of these workers lose their eligibility in 2015 – many will apply for permanent resident status – it would only lower the pool of visa holders by 3.7 per cent.
Overall, he suggests that non-permanent residents, and in particular temporary workers, are no longer just marginal and reversible factors when dealing with shortages in local job markets on a short-term basis.
"They should be viewed as an important demographic force capable of influencing and potentially altering the trajectories of macro-economic variables such as housing activity and consumer spending," Mr. Tal wrote in his report.
He said a key component of the non-permanent residents group is that 95 per cent are below the age of 45. But the real impact might be felt on younger segments of Canada as a whole.
The 18 to 24 age group is among the fastest-growing segment of the non-permanent residents population. While it has been only five per cent of the overall population for that age group since 2006, it accounted for 50 per cent of its growth over the past half-decade.
In the 25 to 44 category, the number of non-permanent residents has doubled since 2006 and accounted for all growth in that age group.
Tal said the impact is felt most significantly in Ontario where there has been a notable decline in the 25 to 44 population. He says that, if not for non-permanent residents, there would have been a 120,000 decline in that segment of the population in Ontario since 2006. British Columbia also saw all of its growth since 2006 in the 25 to 44 age group come from non-permanent residents.
"It is not a coincidence that those two provinces are also the ones to experience long-lasting strong housing market activity," wrote Tal. "It is fair to assume that non-permanent residents play an important role in demand for rental units in both provinces – a factor that contributed to the recent boom in the condo market in centres such as Toronto and Vancouver."
Tal won't say that cutting back on non-permanent residents could create a housing crash, but he says any future policy aimed at limiting growth needs to be offset by a boost to immigration.
"The numbers are simply too large to ignore. Non-permanent residents is a major demographic force with significant macro-economic implications," he wrote.