No Tricks! 8 Halloween Safety Tips for Your Rental Property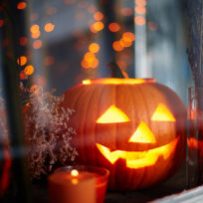 Story by Jennifer Chan
While Halloween is typically a night of festive fun, the increased foot traffic can bring some additional risks to your rental property. Before your tenants dole out the candy to little ghosts and witches, make sure your rental is ready.
Here are eight Halloween safety tips to help protect your property and its visitors.
1. Clear walkways and sidewalks of leaves and debris
Make sure any areas where trick-or-treaters tromp, including your sidewalk, driveway and walkways, are clear of debris — especially if it's slick outside. Also, remind your residents to keep decorations on the lawn or away from the doorway to avoid tripping. Other tripping hazards might include hoses left out from summer or outdoor toys that haven't yet made their way into the garage.
2. Check trees for dead branches
This is a good practice every fall; stormy weather can cause smaller (and sometimes larger) branches to split and fall off, so before a host of extra pedestrians starts walking around below your property's trees, make sure their limbs are secure.
3. Install non-slip treads on outdoor steps
Cumbersome costumes and swinging bags of candy can be a good recipe for a bad fall as trick-or-treaters navigate your steps. Prevent tripping by installing non-slip stair treads. Spending a few dollars at the hardware store is a good investment if it keeps the neighborhood kids safe.
4. Double-check the lights
Before the big night arrives, test the exterior lights and replace any burnt-out bulbs. Light up stairways, pathways, side alleys and front and back lawns so everyone can see where they're going — even if they're not supposed to be there. Add solar lights along pathways to brighten dark areas. A well-lit property will deter tricksters in the neighborhood who are looking to create mischief, or something worse.
5. Limit access to unauthorized areas
The risk of vandalism and theft goes up on Halloween, most likely due to a combination of increased pedestrian activity around your neighborhood and the holiday's association with "trickery." Remind your residents to close and lock exterior doors, gates and windows so they won't be easy targets for criminal activity.
6. Ask residents to enclose pets
Unfamiliar visitors, knocking and doorbells, plus the general increase in activity, can make pets nervous. Prevent pet escapes or aggressive behavior by reminding your residents to keep their pets away from the front door or properly contained.
7. Remind residents about fire safety
Halloween is a good time to remind residents about your policies for open flames on the property, and for you to check the smoke detectors — especially as the weather gets chilly. Candles, jack-o-lanterns, and luminarias are fun seasonal decorations, but they can also be easily overturned. An inexpensive battery-operated candle looks just as good in a pumpkin — without the risk.
8. Inspect the property in the morning
With tricks, treats and heavy foot traffic, you should be extra vigilant and prepared to address any problems that might occur on Halloween night. You or your property manager should confirm that your property is damage-free and clean up any mess made by overnight mischief-makers.