No more interest rate cuts from the Bank of Canada? The country's biggest banks weigh in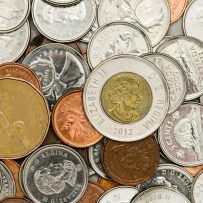 Story by:  Josh Sherman  | Buzzbuzzhome
The Bank of Canada has maintained the overnight rate at a historically low 0.5 per cent, mirroring the decision it made in January. Likewise, a number of the biggest Canadian banks threw in their two cents once more on the central bank's decision.
While none were caught off guard by the move, each provided insight into what to expect from the Bank of Canada concerning the key interest rate, which influences mortgage rates, moving forward. Here's what they said.
.
Bank of Montreal
"The market has steadily priced out the odds of a further BoC rate cut over the past seven weeks, and analysts are even more doubtful on further moves," writes BMO's chief economist, Douglas Porter, referring to the Canadian dollar's recent upswing.
However, BMO doesn't think another rate cut is completely out of the realm of possibility, in part as a result of national unemployment rising slightly, it says, and also because GDP growth is lagging. The loonie's recovery is a factor, too. Since Canada's currency has risen, it is no longer a barrier to further rate cuts, Porter explains.
"Overall, while this (Bank of Canada statement) does not shut the door on another cut, it does nothing to advance the cause," Porter concludes.
RBC
Switching from an economy largely dependent on oil for growth to one more reliant on the non-resource sector, which includes the export of manufactured goods, for instance, isn't a process that happens overnight, notes RBC.
"(The Bank of Canada) has, on numerous occasions, indicated that the transition in the drivers of growth to the non-resource sector is likely to be a "'protracted process,'" writes Dawn Desjardins, RBC's deputy chief economist.
"We expect policymakers will maintain an unchanged near-term overnight rate, as they monitor data for confirmation that the transition is coming."
TD Bank
In the central bank's announcement yesterday, it said, "Canada's GDP growth in the fourth quarter was not as weak as expected, but the near-term outlook for the economy remains broadly the same as in January."
However, TD forecasts the economy will expand at a slower rate than the Bank of Canada is calling for through 2017 , "despite stronger near-term momentum."
"As a result, we expect the Bank of Canada to maintain its accommodative stance for some time, remaining on hold into 2018."
Scotiabank
The Bank of Canada aims to keep annual inflation at a rate of two per cent. In its statement yesterday, the Bank of Canada said, "All things considered, the risks to the profile for inflation are roughly balanced."
Scotiabank has another idea. "If we're right that the (Bank of Canada) is relying too heavily upon transitory factors to sustainably bring down upward pressures on inflation, then combined with the fact that they are not yet incorporating fiscal policy effects on growth and inflation forecasts leads us to continue to believe that the next rate move is more likely to be up, not down, but not this year," reads commentary from Derek Holt and Dov Zigler, both Scotiabank economists
Holt and Zigler note the Bank of Canada's announcement "is arguably stale on arrival" as the next federal budget will be tabled March 22. The central bank says it will release its assessment of the potential economic impact of the budget on April 13, when it announces its next key interest rate target and Monetary Policy Report.