NO EXCEPTIONS TO TENANT PROTECTIONS AGAINST LARGE RENT INCREASES, MINISTER SAYS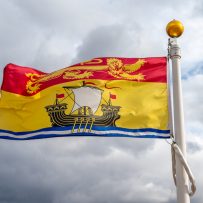 New Brunswick's minister responsible for housing says landlords who have been told by the Residential Tenancies Tribunal they can raise rents on tenants above 7.3 per cent for 2023 —without spreading the increase over two or three years — are having those decisions reviewed and reversed, if necessary.
"We are in the middle of a quality-control review process and we're assessing all the cases, and if we need to make changes we will," Jill Green told CBC's Information Morning Fredericton.
Green was responding to a CBC report from last week that found just over half of the first 16 rent increases that have been approved by the tribunal for 2023, for more than the rate of inflation, were not required to be phased in over multiple years.
"Nine cases that were above inflation were not phased in," wrote Judy Désalliers, a communications officer with Service New Brunswick in an email to CBC News about the decisions.
"Seven rent increases were approved and phased in."
Green said that's not what was intended when rental legislation was amended last December.
At the time, Green ended a one-year experiment that capped rent increases landlords could charge tenants in 2022 and instead replaced the policy with a requirement that large rent increases in 2023 be spread over multiple years.
According to those new rules, officials working with the Residential Tenancies Tribunal have the authority to review a rent increase proposed by a landlord and, if found reasonable, to require it be implemented over two or three years if it exceeds the recent pace of inflation.
This year, a rent increase of 7.3 per cent in New Brunswick is considered to be at the inflation rate. Approved or uncontested increases equal to or below that amount are free to be implemented in full.
However, increases higher than 7.3 per cent qualify tenants to have the change phased in over two years, while increases of more than double the rate of inflation, or 14.6 per cent, qualify for implementation over three years.
According to Green there are not meant to be exceptions or loopholes to that formula and in cases where that has happened, the decisions are being revisited.
"We have the ability to put quality control measures in place and review the decisions that have been made by the Residential Tenancies Tribunal," said Green.
"The legislation has been put in place so that if the rent increases are significant, and in this case over 7.3 per cent, then they can be phased in over two and three years. That's how the legislation and the regulations have been written."
However, for the last four months the Residential Tenancies Tribunal has been interpreting the new rule to be less firm than Green says she intended.
On its website, the tribunal states clearly "whether or not" a large increase is phased in "will depend on many factors"  that a tribunal officer evaluates in each case.
The tribunal gives four examples of when it might decide a rent increase above 7.3 per cent can be exempted from the phase-in policy:
If the market value in the area remains well above the proposed increase.
If the unit in question has not had a rent increase for several years.
If there have been major renovations to the unit.
If one unit is well below the rent paid for similar units in the same building.
Two weeks ago, the tribunal confirmed to CBC News that, in its view, having large rent increases spread over multiple years is a judgment call to be made by its officers and not an automatic protection available to all tenants.
"Based on the findings of a rent review investigation, a Residential Tenancies Officer has the ability to make a discretionary decision to phase in a rent increase," wrote Désalliers.
But Green, who is the minister responsible for the tenancies tribunal, disputes that decisions to phase in large increases are discretionary in any way.
"There aren't exceptions built into the rules around the rent increases," Green said.
Despite that, the list of exceptions to the phasing-in policy were still posted on the Residential Tenancies Tribunal's website on Monday.
'May' vs. 'shall'
Lyle Skinner is a constitutional lawyer and believes differences between how Green and the tenancies tribunal have been viewing whether the phase-in of large rent increases is mandatory, flow from ambiguous wording of the December amendments put forward by the minister.
Those amendments say tribunal officers "may" spread a qualifying large increase over multiple years instead of "shall," which Skinner said should have been used if the province wanted the policy to be applied without exceptions.
"Under statutory interpretation principles, 'may' confers a discretionary power to a decision maker, where 'shall' requires a decision maker to perform a specific action," said Skinner, after reviewing the legislation, the tribunal's list of exceptions and listening to the minister's interview.
"From a rule of law basis, the legislature has the ability to retroactively amend the act to apply to all rent increases as of Jan. 1, 2023. This would provide clarity for New Brunswick tenants and landlords, as it would be clear a residential tenancy officer does not have discretion."
Story by: CBC News