New York City now number one in North America for new residential construction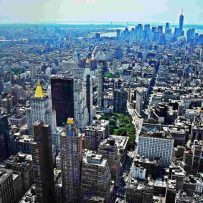 Story by: BuzzBuzzHome
New York City now has more multi-family units under construction than any city in North America, bringing Toronto's reign over urban construction to an end. According to BuzzBuzzHome's most recent development numbers, New York City outpaces Toronto by 701 residential suites, with 38,815 multifamily units under construction compared to Toronto's 38,114 units.
Although the gap between the two cities may not seem substantial, it indicates that in the midst of Toronto's multi-year development boom, New York has seen a steady growth of multifamily unit construction – an indication of the city's recovery from the housing market downturn.
"The decline and resurgence of construction in New York City is something we've kept a close eye on over the past five years," said Matthew Slutsky, president and co-founder of BuzzBuzzHome. "A city's construction numbers are a reflection of a stable and growing economy. Toronto has led in the construction sector for years, despite the fact that New York City has a population more than three times that of Toronto."
According to our Market Snapshot tool, which measures real estate development data in over 25 markets across North America, Toronto continues to lead in units per capita, with 1.46 homes under construction in Toronto for every 100 people, vs. 0.46 for every 100 people in NYC.
While Toronto wins out in units per capita, NYC wins when it comes to height. The five tallest buildings under construction in NYC will all stand taller than Toronto's tallest project under construction, Number One Bloor which will be 844 feet. Also despite being only slightly behind in total units under construction, Toronto only has 129 projects under construction compared to 339 in New York City, which reflects the smaller unit sizes in Toronto. Almost 40 percent of new condo units under construction in NYC have over three bedrooms, whereas in Toronto only 6 percent of units have three bedrooms.
Toronto is also more focused on projects in the downtown core, with 51 percent of units under construction in the downtown area, vs. 36 percent of units under construction in NYC's Midtown and Downtown Manhattan neighborhoods. In terms of popular neighborhoods, Long Island City is the top neighborhood for new construction in NYC, whereas the Entertainment District comes out on top in Toronto.