New Waterfront Innovation Centre coming to Toronto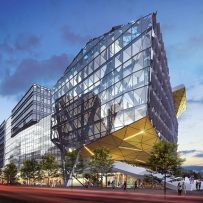 Story by: CBC News
Waterfront Toronto has announced plans for the new 350,000-square foot Waterfront Innovation Centre that is expected to provide an estimated 2,000 new jobs and attract cutting-edge technology businesses to the city.
The building, which is entirely funded by the private sector, will be located on city-owned land in the East Bayfront precinct of the waterfront, adjacent to Sugar Beach.
"It's a job creating jewel," said Mayor John Tory, who attended the announcement along with representatives from Waterfront Toronto, federal Finance Minister Joe Oliver, Ontario Economic Development Minister Brad Duguid and Peter Menkes, an executive at Menkes Developments, a longtime Toronto developer selected to led the project.
At the heart of the project is the ultra-high-speed broadband network currently in place across the waterfront. The network provides unprecedented internet speeds and will attract "a spectrum of forward-thinking companies," said Oliver.
"We are in a global competition for jobs and talent, said chair of the Waterfront Toronto board of directors. Wilson said the building will be the beginning of a larger "innovation district" in the city that will help Toronto attract "high value" employers.
Menkes said his company anticipates they will break ground sometime in 2016, and the project will take approximately two and half years to complete.
Menkes did not say how much the project is expected to cost. There are currently no tenants secured, but pre-leasing negotiations are underway, he said.
According to artists renderings, the innovation hub will be serviced by TTC buses.
Waterfront Toronto's revitalization of Queen's Quay went over budget by $35 million. Tory said the Waterfront Innovation Centre represents a "perfect example" of how the private and public sectors can work harmoniously.
The Innovation Centre, he says, will be key to helping the city compete on the world stage.
"I'm not sure that getting out and selling Toronto has been the priority it should have been in recent times. This will help us get out there and sell the city to the world," he said.
News of the development comes one day after Tory reiterated his desire for more collaboration between the city and provincial and federal governments at the big city mayors summit.
*** Click here to watch the news coverage.***