NEW REPORT SHOWS THE COST OF RENT IS CLIMBING IN WINNIPEG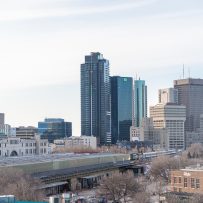 A new report shows the cost of renting an apartment in Winnipeg is going up.
The report, which was published by rentals.ca, indicates prices have jumped 9.6 per cent compared to last year.
It is based on available units for rent in the city, meaning those who are currently a tenant might not feel the increase, but those looking at a new build or renovated suite might for forking out more money.
"I'm concerned," said Nick Chimitalo, who rents in the city. "I know a couple buddies have been trying to look for a place out here that – even rental pricing, it's way too much."
Avrom Charach, a spokesperson for the Professional Property Managers Association, said the rising price is being driven by new builds.
"When you put a whole bunch of new units that are coming at $1,900 or $2,000, that pulls up the average rent in the province very quickly," said Charach.
Remodelling existing units also plays a role in the price.
"A lot of us with older apartment stock, like my company, when people move out, we're completely gutting a lot of our units and renovating them to a 2023 living standard."
It's a problem for many in the city.
"I downsized, but it was kind of due to the fact of inflation. I am paying less now, but I don't have as big of a space," said Colleen Vincent, who recently moved.
The average cost of a one-bedroom apartment is nearly $1,300 a month.
"That's for one bedroom? That's what I was paying for a two-bedroom in Edmonton," said Casey Shea, who has just moved back to Winnipeg.
While rental averages climbed at a lower rate than national numbers, the hike is still alarming to affordable housing advocates.
"It's very concerning. So many people that we talk to are struggling to put food on the table, pay their utility bills," said Josh Brandon, a community animator with the Social Planning Council of Winnipeg.
He said some families are being priced out of rental units and says the issue highlights the need for more social housing with rent geared to income.
"Nobody should be paying more than 30 per cent of their income in rent and with the housing prices we're seeing today, more and more families are having to pay upward 50 per cent of their income towards rent and that means they're having to make very difficult choices around groceries, utilities and other basic needs."
Rent increase guidelines in Manitoba for 2022 and 2023 were zero per cent, however, buildings 20 years old or newer and places with rent higher than $1,670 aren't subject to rent control.
The last Canadian Mortgage and Housing Corporation report in January said the vacancy rate was 2.7 per cent. The national rate at that time was 1.9 per cent.
However, Charach says Winnipeg's vacancy rate has since dropped to nearly zero per cent.
Story by: CTV News