NEW RENDERINGS OF VANCOUVER'S FIRST MODERATE-INCOME RENTAL HOUSING PROJECT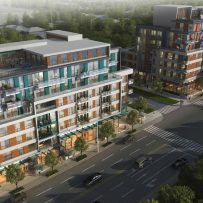 A major rental housing redevelopment next to SkyTrain's Renfrew Station in East Vancouver has progressed to its next application stage.
The Molnar Group recently submitted development applications for the two-site redevelopment at the southwest and northwest corners of the intersection of East 10th Avenue and Renfrew Street. These sites are land assemblies of single-family home lots.
This follows city council's decision in December to approve both rezoning applications, which is the first moderate-income rental housing project in the city.
Some very minor revisions have been made, and there are now new artistic renderings showing greater architectural detail.
The buildings at 2603-2655 Renfrew Street and 2543-2583 Renfrew Street will contain a combined 185 rental homes, with a unit mix of 49 studios, 70 one-bedroom units, 49 two-bedroom units, and 17 three-bedroom units.
Under the city's Moderate Income Rental Housing Pilot Program (MIRHPP), all residential space in the project must be secured rental housing, with at least 20% of the residential floor area designated for moderate income households earning between $30,000 and $80,000 annually.
These buildings will achieve this by offering a combined total of 37 units under the MIRHPP.
Amenity spaces for residents are located on the rooftop level; the North Building has 1,400 sq. ft. of outdoor children's play area and 3,000 sq. ft. of multi-purpose indoor space, while the smaller South Building has 2,000 sq. ft. of outdoor children's play area and 2,900 sq. ft. of multi-purpose indoor space.
The ground levels along Renfrew Street are activated by 16,400 sq. ft. of retail and restaurant space.
"The use of a hybrid 'window-wall' type system on these floors will further reduce the perception of height and massing. The top floor expression runs down the façade at the entrance and at one location on the rear elevation to break up the horizontality of the cascading 'blocks' and make a ground floor connection," reads the design rationale by WA Architects.
"A strong distinct colour is used on the commercial ground floor level where it creates a consistent continuous band suitable for signage. This colour is then repeated on the upper floors as a unifying element that connects the ground floor plane to the top levels. This concept is carried throughout the entire project (both North and South buildings)."
Two underground levels in each building will provide a combined total of 143 vehicle parking stalls and 367 bike parking spaces.
The North Building's total floor area is 94,600 sq. ft., while the South Building is 80,562 sq. ft.
Less than a block east on a large commercial parking lot at 2710 Kaslo Street, The Molnar Group is also proposing to build a seven-storey building with 134,400 sq. ft. of office space and a six-storey institutional building with 84,746 sq. ft. of total floor area for university or college uses.
Story by: Daily Hive