New regime in Alberta could mean rent controls for apartments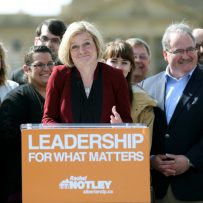 Story by: Garry Marr  |  Financial Post
Alberta's free market for setting apartment rents might come to an end, something landlords in the province say they would strongly oppose.
New Democrat Premier-elect Rachel Notley is on record saying she favours some kind of rent controls in the province that has only had a brief, temporary history of constraining landlords.
A story in October, 2014 in the Calgary Herald, before the election was called, quoted Notley condemning former premier Jim Prentice's stance that the market could deal with housing issues as "profoundly irresponsible" and suggesting the government should implement some form of rent control.
"If we leave it to the market, there will end up being a market for tent space in this park," she said while in downtown Calgary.
Her office would not say what her plans are for rent control. "As this comment was made in October 2014, I would defer you to our most recent platform [though the site is down at the moment]. Our priorities are in that platform," said Cheryl Oates, communications officer for the New Democrats, in an email.
While the industry was cautious in reacting to Notley's previous pledge, now that she has been elected, there is little question she will face resistance if she goes ahead with any type of price controls.
Bob Dhillon, chief executive of MainStreet Equity Corp. which has about 60 per cent of its apartment holdings in the province, says Notley did not mention rental control as a key driver of her election platform, but notes it would be destructive if she followed through.
"One of the famous quotes out there about rent control comes from the housing minister of Saigon. He said rent control did more damage to apartments in Saigon than B-52 bombers," said Dhillon.
Dhillon has long been an opponent of rent control and says rent control has proven to curtail construction of new apartments because developers are less likely to build new housing stock, if the government dictates what their revenue will be. Some have suggested one reason Ontario's condominiums have been so popular with investors was a change in rules that allows landlords to charge market rent once a tenant vacates.
"It has been demonstrated that the free market is the best answer to supply and demand," he said. "Are you helping the tenants by putting in rent controls? I don't believe so."
If we leave it to the market, there will end up being a market for tent space in this park
A report from Canada Mortgage and Housing Corp. in October found the rental vacancy rate in Alberta had climbed to 2.1 per cent from 1.6 per cent a year earlier. The average rental rate for a one-bedroom apartment in the province was $1,040 per month in the CMHC October survey, up from $967 a month a year earlier.
The Crown corporation noted in its report that "demand for rental units and low vacancy rates in Alberta has encouraged new rental construction in recent years with the number of purpose-built rental apartment starts consistently increasing year-over-year since 2010″ in Alberta. It said as of September, 2014, the province could expect another 5,000 rental units to be built.
Sam Kolias, chief executive of Boardwalk Real Estate Investment Trust, the largest publicly traded apartment owner in the country, which derives about 70 per cent of its net operating income from Alberta, said in the 1970s Alberta temporarily put restraints on rental increases during an inflationary period.
"We recognize the free market has its flaws," said Kolias, noting since 1999 his REIT has limited its annual increases because it creates a more stable long-term tenant base. "Rent controls do have unintended consequences. Economists say when prices are artificially reduced, demand is artificially increased. It creates an artificial shortage of housing."
Most of the major cities in the country have some sort of rental control, with the provinces of Alberta and Saskatchewan the major exceptions.
Boardwalk REIT, MainStreet Equity Corp., and Northern Property REIT are the three publicly traded REITs with the largest stakes in the province, and one analyst, who did not want to be named, said it is way too early to say if there will be an impact on their numbers.
He did caution that in the past, when landlords couldn't raise rents, they simply stopped putting any money into their buildings because they couldn't recover their costs. "By the 1990s, in Ontario, you had slums until there was a relaxation in the rent control regime," said the analyst, referring to landlords being allowed to pass on capital cost upgrades and raise rents once a tenant moved out.