NEW PLAN FOR HALIFAX DEVELOPMENT WITH TWO SKYSCRAPERS NEARLY 30 STOREYS HIGH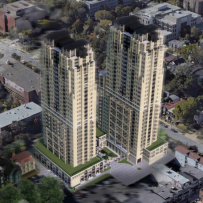 Haligonians will soon get a chance to weigh in on a revamped plan for two massive skyscrapers developer Peter Rouvalis hopes to build near Spring Garden Road.
The Promenade is a mixed-use complex that will cover eight properties along Robie and College Streets.
Newly updated designs for the project call for a 28-storey plus penthouse tower and a 29-storey plus penthouse tower, stretching approximately 90 metres high, sitting atop a shared podium.
The entire development will feature 577 residential units, as well as commercial space along Robie Street and Part of College Street.
The complex will have a six-level underground parking lot capable of holding more than 500 vehicles.
Part of the project will also see alterations to several heritage buildings, including physically moving them so they can be incorporated into the complex.
Rouvalis first proposed developing the area back in August of 2017.
At the time, he asked the council for permission to build two towers, 20 and 26 storeys high, that would hold approximately 400 residential units.
That proposal was met with resistance from community members, who worried that The Promenade, along with another major development slated for the same block, was too big and would add too much density to the area.
In September 2018 the Halifax Peninsula Planning Advisory Committee also raised concerns about the overall building height, as well as the ground-level streetscape of the development, saying it should be more pedestrian-friendly.
Earlier this week, the same committee reviewed the new project plans. Its Tuesday meeting wasn't public, but draft minutes indicate a warmer reception.
While some members still felt the development would be too large for the neighbourhood, members also said they liked the podium design and the project's heritage aspects.
Some committee members called on the developer to include affordable housing as part of the project. City staff noted, however, that there is nothing requiring the developer to do so.
Now that it's secured a recommendation from the PAC, the project will be sent to a public hearing. Following the hearing, Halifax and West Community Council will make a decision on whether to grant a development agreement for the project.
If the project is approved, its 90-metre skyscraper will be one of the tallest in the HRM.
Right now, the 33-storey Fenwick Tower, which stretches 97.5 metres, is the city's tallest building. However, the developer of King's Wharf in Dartmouth has been given permission to build a 120-metre, 40 storey tower as part of their development.
Story by: Huddle