NEW CONDO SALES FALL TO LOWEST LEVEL SINCE '09 RECESSION BUT PRICES & CONSTRUCTION MOVE HIGHER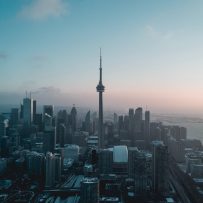 Urbanation Inc., the leading source of information and analysis on the condominium market since 1981, released its Q2-2020 Condominium Market Survey results today, providing the first insights on how the GTA new condominium market has performed during COVID-19.
During the second quarter of 2020, new condominium apartment sales totaled 1,385 units in the GTA, the industry's lowest volume of sales activity since the Great Recession in Q1-2009 (885 units). New condo sales dropped 85% year-over-year as only six projects and 1,176 units were launched for pre-sale during the quarter, which compares to 40 projects and 11,415 units launched in Q2-2019.
Absorption of the units released for pre-sale during Q2-2020 totaled 67%, which was in line with sales absorption achieved within new project launches in the quarters leading up to the pandemic. However, selling prices within newly launched projects in the second quarter averaged $889 psf, compared to an average selling price of $1,159 psf for new launches in the first quarter of 2020, which reflected a lack of new launches in the higher-priced Downtown Toronto markets during Q2-2020.
Selling prices within new project launches in the second quarter were notably higher than projects launched in the same submarkets since the second half of 2019, setting new highs for their respective market areas in most cases. As a whole, average selling prices for units in actively marketed new condo projects in development across the GTA averaged a record high $867 psf, edging up from $864 psf in Q1-2020 and rising 8% year-over-year, reflecting broad-based increases in selling prices. For unsold units remaining in Q2-2020, prices increased from $1,080 psf in Q1-2020 and were up 9% year-over-year to a record high $1,087 psf. Developers gained confidence during the quarter as sales continued with the move to a virtual format, inventories remained low, and many projects progressed into the construction stage.
Overall, 90% of all new condominium units in development in the GTA were pre-sold in Q2-2020, rising from 88% in Q2-2019. Unsold supply declined 19% year-over-year to 12,778 units and fell 17% below the 10-year Q2 average of 15,468 units. New condo supply is expected to see improvement in the third quarter, as the success shown within recent new launches and the stability of the resale market during COVID-19 has pulled forward some project launches into the summer that were previously delayed to the fall. As of the end of July, 2,137 units launched so far during Q3.
Despite below-grade condo construction having been temporarily halted by the provincial government during April, a total of 7,388 units started construction in the second quarter, up 45% from Q2-2019 (5,094) and  elevating the total number of condos under construction to 78,212 units — the second highest level on record behind Q4-2019 (78,693). The growth in condo construction has been fueled by the 905 Region, which saw its under construction count rise to a record high 24,690 units from 17,764 units in Q2-2019. Meanwhile, the number of condos under construction in the former City of Toronto (largely representing the downtown markets) declined from 39,027 units in Q2-2019 to 34,990 units in Q2-2020. This occurred as the resale condominium data for Q2 showed that markets outside of Downtown Toronto performed best in the COVID-19 period.
"The GTA condo market showed resiliency in the second quarter, albeit with much lower than normal activity. More telling will be the second half of 2020, which will see supply pick up from growth in new launches and the nearly 14,000 units that are scheduled for completion in the next six months." 
                                                                                                                                –Shaun Hildebrand, President of Urbanation
Q2-2020 GTA New Condominium Market Charts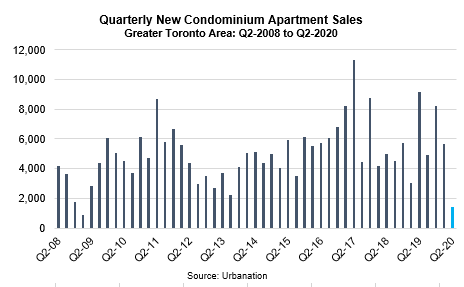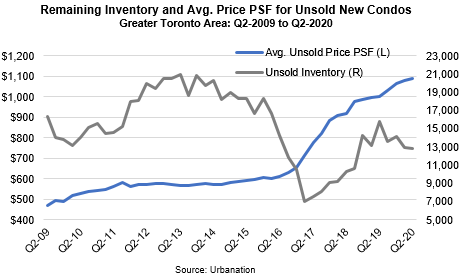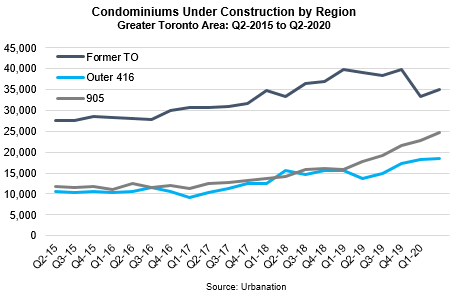 ABOUT THE CONDOMINIUM MARKET SURVEY
Urbanation has been surveying the GTA condominium market each quarter since 1981 through established relationships with the region's developers, brokerages, and lenders. In addition, our team of experienced researchers conduct regular site visitations to compile the industry's most in-depth coverage on every new condominium project in development across the region.
Urbanation's Condominium Market Survey subscription provides access to our historical online database of new condominium developments in the GTA and Hamilton-Grimsby, including full project profiles and unit information, and market reporting metrics such as sales totals, absorption rates, inventory levels, average sold and unsold prices per sf, incentives, and more. Data is reported at the individual project level, with tools to generate regional, municipal, and submarket totals. Information on upcoming new condo project launches and future developments are tracked in our proposed database, which is also included as part of the Condo Market Survey subscription.
Story by: Urbanation