NEW CMHC CEO SAYS BEST WAY TO COMBAT SOARING HOME PRICES IS BUILDING NEW HOUSING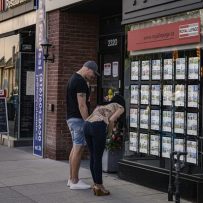 The new leader of Canada's national housing agency says the best way to combat soaring home prices is to build more housing.
In some of her first public comments since taking the helm of Canada Mortgage and Housing Corp. in April, Romy Bowers said she is concerned about the spike up in home prices over the past year and the level of homeowner indebtedness.
Anger about soaring house prices could influence Canadian politics, civility between generations and even mental health
"I do think housing is becoming a really significant societal issue," Ms. Bowers said in an interview. "What worries me about escalating house prices is that it exacerbates the gap between homeowners and people who are not homeowners."
Since the start of the pandemic, homeowners have been able to take advantage of record low borrowing rates and have seen their household wealth increase as property values jumped. The average home price is 38 per cent higher than last year and a typical house across the country costs more than $700,000, according to the Canadian Real Estate Association.
Meanwhile, renters, many of whom earn low wages, suffered employment losses or were required to continue working in congregate settings such as warehouses and grocery stores when COVID-19 was quickly spreading. And even though rental rates fell in the city centres, rent is still high.
Cities are becoming more unaffordable. While first-time home buyers are unable to save enough for a down payment, older homeowners are not selling in part because their alternatives, including condos, are so expensive.
"It really makes me feel that we need to double down on some of the things that we have been working on – our focus on supply, our focus on rental, our focus on creating more dense neighbourhoods in our cities," said Ms. Bowers, referring to CMHC's programs to repair rental units and build new rental housing.
Ms. Bowers said she has heard from many young people that homeownership seems so out of reach. "In my mind, the best way to address house price escalation is to provide more supply," she said.
Under Ms. Bowers's predecessor Evan Siddall, CMHC expanded its focus of providing mortgage insurance to include providing affordable housing to vulnerable populations.
Like Mr. Siddall, Ms. Bowers said she believes the glorification of homeownership needs to end. She said more needs to be done to add more homes per square kilometre in urban centres, a process also known as densification.
Story continues below advertisement
Ms. Bowers said the rise in home prices is not new. She pointed to a 2018 CMHC study that found the main reason behind house price escalation was the mismatch between demand and supply.
"I am very supportive of actions that can be taken by all levels of government to ensure there is a robust supply response to demand," she said. "I look forward to doing further work on that, to really think about how we can really accelerate the increase in supply in urban centres particularly, but all across the country."
Ms. Bowers said there is "no silver bullet" to quickly adding supply. But she said there are lots of barriers to development at the local level, such as zoning issues and nimbyism, or not in my backyard, from homeowners resistant to denser neighbourhoods.
A former managing director at Bank of Montreal, Ms. Bowers joined CMHC in 2015 and held several roles, including chief risk officer and senior vice-president overseeing the agency's affordable housing programs.
Ms. Bowers said she has spent her first 90 days as chief executive officer meeting agency staff and listening to more than 100 external housing stakeholders to discuss the agency's role in housing and how it can improve.
She said CMHC's announcement this week that it will loosen its insurance requirements for home buyers will not lead to higher home prices or fuel demand because the changes simply move CMHC back in line with its private-sector competitors.
The looser requirements, which allow home buyers to have a lower credit score and slightly higher debt burdens, unwind tighter rules the agency introduced a year ago.
"We made the changes unilaterally [last year] and basically the business moved to our competitors," she said. "And we don't think there is a net impact on the housing market as a whole."
Ms. Bowers said CMHC made the initial decision to tighten rules at the beginning of the pandemic when the economy was shutting down, job losses were mounting, and there was great uncertainty about the housing market.
CMHC, which used to be the largest provider of mortgage insurance, expected the two private-sector insurers to follow suit but they did not. As a result, lenders funnelled more of their business to CMHC's competitors.
Story by: The Globe and Mail