New Brunswick property tax stifling investment in apartments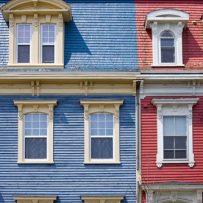 New Brunswick's property tax has led to virtually zero growth in new apartment investment, according to market players and observers.
"It is stopping investors from coming here, it is stopping people coming in and purchasing income properties, and it is also hurting our economy," according to Pamela Doak of the Fredericton Real Estate Board, speaking to GlobalNews.ca.
These assertions were supported by Statistics Canada numbers, which indicated that apartment investment has grown in Nova Scotia between 1994 and 2018, while remaining flat in New Brunswick over the same period.
Data from the Canadian Real Estate Association showed that the market's average sales prices make it a relatively affordable option, with the single-family home benchmark as of 2018 at $177,200 (vs. the national average of $488,600).
However, this is only part of the picture. Research by real estate information portal Zoocasa has found that keeping a home in New Brunswick is particularly costly, with Saint John having the highest residential property tax rate in Canada (1.785%).
Read more: Growing number of PEI, BC locals burdened by insolvency
The New Brunswick Real Estate Association has long pushed for legislative changes, as the province is the only jurisdiction in Canada that has a non-owner occupied levy
"We've been lobbying basically since 2010 to create a fair taxation system. One of the things that we are lobbying for mostly this year is the elimination of the double taxation," NBREA government relations committee chair Kari McBride said.
The provincial government assured that it is taking these concerns seriously.
"As our fiscal situation improves, government is committed to gradually eliminating the double taxation, with an initial focus on helping tenants whose apartment is their primary dwelling," the government stated.