NEARLY A THIRD OF EDUCATED YOUNG IMMIGRANTS PLAN TO LEAVE CANADA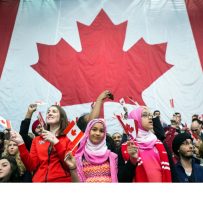 The Canadian government, facing an aging population and a shortage of skilled labour, is pushing hard to increase immigration with a plan to welcome about 400,000 newcomers annually over the next three years.
But Canada is seeing pushback from the very immigrants the country hopes to attract and retain – young university graduates with marketable skills, according to a new Leger survey conducted with the Institute for Canadian Citizenship (ICC).
The survey found that 30 per cent of 18 to 34-year-old new Canadians and nearly a quarter of university-educated new Canadians say they are likely to move to another country in the next two years.
"The new data points to the fact that many new Canadians are having a crisis of confidence in Canada — and that should be ringing alarm bells all over Ottawa," said ICC CEO Daniel Bernhard. He noted that the findings upset the common conceit that Canadians are welcoming to all new immigrants, who in turn are grateful to be here.
Vancouver immigration lawyer Richard Kurland, however, says there is nothing wrong with Canada's immigration system and those leaving simply represent the global mobility of the highly skilled.
"It ain't broke. Don't fix it," said Kurland, a partner in Kurland, Tobe and a noted consultant on immigration matters.
"The reality is that if new immigrants plan to leave Canada because they found a better gig, there are many more to take their place," he said.
The Leger study included an online survey of 1,519 general-population Canadians adults and an online survey of 2,103 new Canadians, which was completed between February 24– 28, 2022.
The survey found that new Canadians were generally better educated, with 81 per cent holding a university degree, compared to 28 per cent of Canada's general population. Newcomers also earned more, with 48 per cent making an annual salary of at least $80,000, compared to 41 per cent of the general Canadian population.
The majority – 67 per cent – of the new immigrants had been in Canada for five years or less.
While 72 per cent of new immigrants agreed that Canada offers "a good quality of life", 54 per cent said Canadians "don't understand the challenges that immigrants face."
Of the 57 per cent of new Canadians who said they have no plans to move to another country, most were older than age 55 and less educated.
The top three reasons that younger, highly educated new Canadians gave for not recommending Canada were "current leadership/government" (43 per cent); "high cost of living" (35 per cent) and "discrimination/racism," cited by 19 per cent of new immigrants surveyed.  The cost of housing, high taxes and a poor health care system were named by 11 per cent.
"The data suggest that younger, highly skilled immigrants in particular are starting to fall between the cracks," said Dave Scholz, executive vice-president at Leger. "We need to continue working hard to ensure that we are welcoming newcomers with the resources they need to succeed, and that we continue to be a country that provides opportunity."
But Kurland argues that Canada will continue to be a magnet for skilled immigrants.
"We have huge numbers of skilled workers already here, working and paying taxes, who want to upgrade their status from temporary to permanent, and more than enough to make up for departees," he said.
Story by: Western Investor