National Rent Report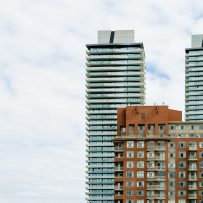 Toronto and Kanata, a suburb of Ottawa, top the list for highest rents in Canada 
Overall rents in Canada up 2.1% monthly in September, report shows.
The average monthly rent for a one-bedroom home is down month over month in Toronto but still the highest in Canada, while a growing Ottawa suburb, Kanata, takes the top spot for highest rent for a two-bedroom at almost $3,000 a month. 
Average monthly rent for a one-bedroom home in Toronto in September is $2,304, down from $2,330 in August, and a two-bedroom goes for $2,908, according to the October National Rent Report produced by Rentals.ca and Bullpen Research & Consulting.
Average monthly rent for a two-bedroom for the hi-tech centre Kanata hit  $2,998 while a one-bedroom goes for $2,169. 
The average Canadian property was listed for $1,954 per month in September, an increase of 2.1% compared to August. The national rental rate in September just topped the previous high-water mark for the year of $1,953 in June, according to Rentals.ca data. 
On a provincial level, Ontario had the highest rental rates in September, with landlords seeking $2,334 per month on average (all property types), an increase of 0.5% from August ($2,321).
From the graphic below, a studio unit in Ontario is more expensive to rent than a three-bedroom home in Alberta, Manitoba and Saskatchewan.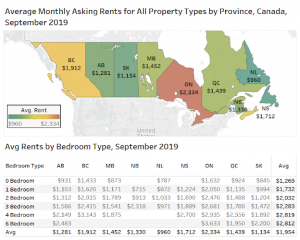 The median rent was the same or higher in Q3-2019 versus Q2-2019 in most of the major municipalities on the east side of Canada, while many geographic areas on the west side of the country, including Vancouver, Calgary, Edmonton, Saskatoon, Regina and Red Deer all experiencing declines.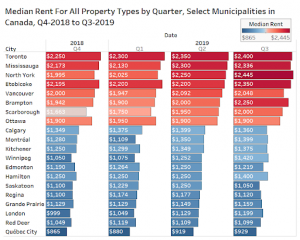 A recent report on the rental market in Canada by RBC Economics concludes Toronto is 9,100 units short on rental supply, Montreal is 6,800 units short and Vancouver is 3,800 units short. These estimates are based on the number of units required to reach a 3% vacancy rate. 
Other takeaways from the October National Rent Report include:
Rentals.ca

explores the question of whether the Oct. 21 election will make a difference in solving Toronto's low vacancy rates, high rents and affordable housing crisis in

this election primer

.  From the rent report: "The housing measures proposed (by candidates) won't likely be able to restore the balance between supply and demand in British Columbia and Ontario, as demand continues to be held up by strong population growth."

Thirteen of the top 18 cities on the list of 34 cities are in Ontario and the other five are in British Columbia.

Toronto (former City boundaries, pre-amalgamation) is the highest priced rental apartment market with an average rent of $2,200, compared to $2,156 in East York, and $2,103 in Vancouver. Yellowknife has higher average rents than many Ontario municipalities at $1,929 per month.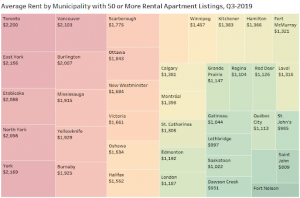 "Housing affordability continues to be a hot button issue with voters going into the federal election," said Ben Myers, president of Bullpen Research & Consulting. "And potential policy changes that would make it easier for first time-buyers to purchase a home may take pressure off the rental market, which continues to rise nationally, despite the market softness in the prairie provinces." 
The National Rent Report charts and analyzes national, provincial and municipal monthly and quarterly rental rates and market trends across all listings on Rentals.ca for Canada. 
The Rentals.ca numbers show vacated properties that better reflect current values. The figures better represent the actual rents a potential tenant would encounter when seeking to rent an apartment. 
If you have any questions or need more information, please contact me, or I can put you in touch with Matt Danison and/or Ben Myers.