National Rent Rankings: Richmond Hill not far behind Vancouver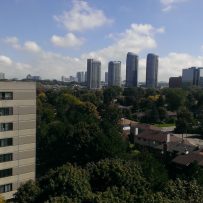 Richmond Hill is a long way from Vancouver — just not in terms of apartment rents.
The average listed rent for a one-bedroom apartment in the suburb located to the north of Toronto was $1,879 in March, up 1.6 percent from the previous month, according to the latest monthly report from rentals.ca.
That's not far off prices in the notoriously expensive Vancouver market.
On average, Vancouver landlords were asking $1,927 per month for available one-bedroom apartments.
But it's Toronto that was priciest, with rents for one-bedroom homes rising 0.9 percent to an average of $2,254.
"Toronto has the most active market in Canada for private landlords, as investors purchase pre-construction condominium apartments and rent them out at completion," writes Ben Myers, the report's author.
"Despite the record number of condominium units under construction, the number of condos completed in Toronto last year was not enough to keep up with demand, especially since the new mortgage stress test limited credit for many first-time buyers (and move-up buyers that didn't list their less expensive properties for first-time buyers to purchase)," he continues.
Rentals.ca tracks rents for the city's former boroughs, such as Scarborough and North York, separately.
Etobicoke, another of the one-time boroughs, had the second-highest one-bedroom rents in the country at $1,941.
On a national level, the average monthly rent was $1,864, down 1.3 percent on a month-over-month basis, while the median dropped 2.7 percent to $1,750. These were the first recorded declines of the year.
To create the report, Myers, who is the founder of the Toronto-based real estate consultancy Bullpen, uses rentals.ca listings.
That means the national average rent is based on a variety of rental homes: basement suites, units in purpose-built rental buildings as well as detached and semi-detached houses and townhomes and condos.
"Mixed economic signals suggests there won't likely be any interest rate hikes in 2019, and there is a higher chance of a rate reduction, as the potential for a recession has been looming recently. These macro-level worries may be impacting tenants' propensity to move," Myers concludes.
See the chart below to find out how one- and two-bedroom rents compare across Canada: