N.B. BRINGS MOST OF ITS HOUSING PROGRAMS UNDER NEW CROWN CORPORATION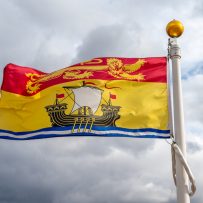 Changes are coming to the New Brunswick Housing Corporation as it becomes a Crown corporation and operates as a separate entity under Jill Green, the minister responsible for housing.
Speaking at a news conference Thursday, Green said amendments will be brought forward during the spring legislative session to bring oversight of the corporation under her portfolio, along with a board of directors, senior leaders and a support team.
"We all know there are no quick fixes to the complex issue of housing and no one department or organization can solve this problem on their own," said Green during the announcement.
Staff and housing programs will be transferred from the departments of transportation and infrastructure, social development and Service New Brunswick, and 15 jobs will be created, said Green.
Main responsibilities
The corporation will be responsible for:
Overseeing financial housing programs and developing and implementing a housing strategy.
Creating and maintaining provincial housing and managing leasing agreements with landlords.
The Residential Tenancies Tribunal, which is responsible for disputes between landlords and tenants, renting questions and ensuring adherence to the Residential Tenancies Act.
The Department of Social Development will continue to provide assistance to people experiencing homelessness, said Green.
Since becoming Service New Brunswick minister in October, Green said she noticed the need for one entity responsible for housing, rather than bits and pieces being dealt with by different departments.
Green said the financial aspect of restructuring the corporation is not yet finalized, but she will share details with the public when the information is available.
Matthew Hayes, a spokesperson for the New Brunswick Coalition for Tenants' Rights, said the announcement was "low-hanging fruit" for the province.
He said while it is great to see the corporation be revived during a national housing crisis, he is concerned that the change won't fix housing problems within New Brunswick.
"It just moves administrative responsibilities around. So in terms of actually fixing some of the problems we're in, and addressing the growing list of people on social housing, you know, that requires more resources that were not announced," said Hayes.
"There needs to be a much more ambitious approach to address the affordable housing crisis."
Story by: CBC News