Munir Sheikh, Ex-StatsCan Head, Says Harper's Debt Policies Risk Canada's Future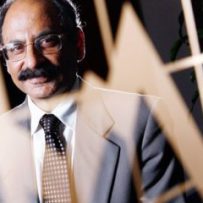 Story by: Daniel Tencer  |  The Huffington Post Canada  
A former head of Statistics Canada has waded into the federal election campaign, arguing in a newspaper column that the Harper government's dual policies of fighting deficits and boosting the housing market are risking Canada's economic future.
In a column published in the Globe and Mail Friday, Munir Sheikh said Canada has managed to hold down growth in its public debt better than most G7 countries — but at the price of running up risky levels of household debt.
"Could it be that our zeal in balancing our government books come hell or high water may be contributing to the buildup of household debt and risking our future economic prospects, as well as the present?" Sheikh asks in his column.

"That seems quite likely in an economy in which the private sector is reluctant to invest, and things are not going to be pretty with the crash in oil prices and the resulting slashing of investment in this sector."
Prime Minister Stephen Harper appointed Sheikh to head Statistics Canada in 2008. Sheikh resigned in a public letter in 2010, in which he objected to Harper's controversial decision to end the mandatory census, replacing it with a voluntary National Household Survey.
In words that have since been echoed by numerous economists and statisticians, Sheikh said the switch to a voluntary census would harm the government's ability to collect data.
Sheikh noted in Friday's column that Canada's national debt grew far less between 2006 and 2013 than was the case in other G7 countries, growing 10 per cent relative to the economy, while the U.S., U.K., France and Japan saw run-ups in the scale of 35 to 40 per cent in that period, which includes the Great Recession.
But Sheikh says that, instead, Canada has relied on a massive run-up in household debt. The country has seen "the largest increase in the household-debt-to-income ratio of all the G7 countries, at about 30 percentage points – double the next-largest increase, in Italy, and 50 percentage points higher than the U.S., where household debt ratio fell," Sheikh says.
Add up the public debt numbers with the household debt numbers, and Canada has seen some of the highest increases in total debt among G7 countries. That "paints a grim picture for Canada," Sheikh writes.
But Canada's method of having consumers run up debt instead of the government is a riskier way of getting indebted, Sheikh argues.
"Government borrowing does not impose a future risk, because governments don't go bankrupt when borrowing to invest intelligently. But increases in household debt do carry that risk," Sheikh asserts.
This chart published by Deutsche Bank earlier this year shows Canadian household debt levels rising beyond U.S. household debt levels.
Harper has made several campaign promises so far designed to make things easier for homeowners and homebuyers. He has announced a plan to make permanent the home renovation tax credit, at an annual cost to taxpayers of $1.5 billion. The temporary credit already in place has saved more than 3 million Canadians more than $700 on home renovations, Harper said.
The Conservative leader has also promised to increase the amount first-time home buyers can withdraw from their RRSPs for a down payment, to $35,000 from $25,000.
At the same time, Harper has been heavily critical of political opponents' spending plans, arguing that deficit spending risks turning Canada into another Greece.
That "does not square well with his own government's track record of adding $175-billion to federal net debt since 2007-08,' Sheikh writes.
"Responsible leadership would use fiscal policy as a stabilization tool, running deficits during bad times (the current situation being one of them) and running surpluses in good times."
The issue of Canada's soaring house prices and the high debt levels that come with them has not made much of an impact in the current campaign. A column in Macleans suggests that may be because politicians of all stripes have too much to gain from the housing market's status quo.
That's especially true for Harper, whose "core of support is those home-owning Boomers and seniors who would benefit" from further house price hikes, Macleans' Jason Kirby writes.
However NDP leader Tom Mulcair has expressed concerns that house price growth may have gone too far.
"I think that right now there is a serious danger. I think that [in] some cities the prices are too high, and I also know that young families can't get into [those markets]," Mulcair said last week.
"There could be a bubble created there, and we could be in for a terrible surprise."
Mulcair has promised tax breaks for landlords who invest in affordable housing, but he would not commit to regulatory policies that could cool the housing market.