Multi-family starts predominant in the hottest markets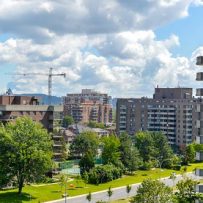 In recent months, more multi-family buildings were constructed than any other housing type in Canada's hottest markets, according to a new report by the Canada Mortgage and Housing Corporation.
"The national trend in housing starts resumed its downward trajectory in February while still remaining above historical average," CMHC chief economist Bob Dugan said.
The Crown corporation said that despite the nationwide housing starts trend falling to 203,554 units in February 2019 (from the 207,742 units exactly a year before), multi-family complexes represented much of recent home construction activity.
"Both single-detached and multi-unit dwellings starts trended lower. Higher mortgage rates combined with still-favourable, but less stimulative economic conditions have contributed to softer demand on new home markets in urban centres."
Vancouver, in particular, saw the predominance of multi-unit buildings in new projects. Condo starts significantly increased in the 12 months ending February 2019, accounting for 77% of the city's new housing units last month. In contrast, single-detached starts fell by 24% annually.
Meanwhile, Toronto's lower February numbers mainly stemmed from low condo apartment starts, although demand for the asset class is not stopping any time soon as "sales of new condominium apartment starts have been strong in 2017 and 2018 and these units will continue to break ground throughout this year at a varying pace."
"Row and semi-detached home starts trended higher underlining their popularity among buyers looking for lower priced ground-oriented homes," the CMHC noted
On the other hand, Montreal's total housing starts decreased by 47% year-over-year in February, but "rental apartment construction has continued to show strong growth. The low vacancy rates, the aging of the population and the greater proportion of young households now opting for the rental market have continued to stimulate rental housing starts," the CMHC stated.