Multi-family starts balloon in Calgary area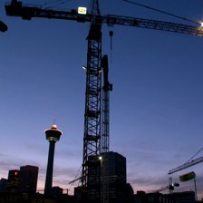 New construction up 212% from a year ago
An exceptionally strong month for new multi-family construction pushed overall housing starts in the Calgary region up by 87 per cent in March compared with last year.
Canada Mortgage and Housing Corp. reported Tuesday that total starts in the Calgary census metropolitan area rose to 1,667 units during the month from 890 in March 2013.
The multi-family sector saw starts rise by a whopping 212 per cent to 1,217 units from 390 a year ago but the single-detached sector saw a decline of 10 per cent to 450 units from 500 last year.
The CMHC said housing starts in the Calgary CMA were trending at 16,647 units in March compared with 14,978 in February. The trend is a six month moving average of the monthly seasonally-adjusted annual rates of total housing starts.
"We had a strong number of multi-family units break ground last month," said Richard Cho, senior market analyst in Calgary for CMHC. "This was mainly due to the pronounced number of apartments that started construction, reaching its second highest level on record in March. Apartment inventories have come down, while demand for housing remains robust. This has contributed to the increase in new construction activity.
"Multi-family units have attracted a number of different buyers. With (rental) vacancy rates relatively low, many investors have looked to purchase multi-family units as investment properties. Multi-family units have also appealed to first-time homebuyers as these homes tend to have a lower price compared to a single-detached home."
Robert Kavcic, senior economist with BMO Capital Markets, said Canadian housing starts unexpectedly fell sharply to 156,823 annualized units from 190,639 the month before.
"The steep decline in housing starts in March was at least partly weather related, but the bigger picture is an ongoing cooling of residential construction activity in Canada," he said.
It was the second-lowest monthly reading for starts since the recession with January 2013 a touch lower, he added.
"Underperformance of the Canadian economy relative to the U.S and the likely gradual increase in interest rates through 2015 will take some of the momentum out of the demand for Canadian housing," said Connor McDonald, economist with TD Economics. "We suspect that the pace of housing starts will gradually trek downward to the 165,000-175,000 unit range over the next two years."
Story by: Mario Toneguzzi, Calgary Herald