Multi-family property sales showing sustained strength in Ottawa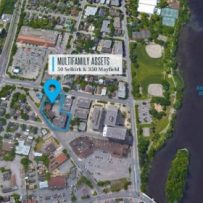 A major $15-million transaction for two multi-family properties just closed in Ottawa last week, attesting to the sub-sector's continued strength.
"Private and institutional clientele continue to show strong interest in Canadian multifamily assets and although opportunities are limited at times, our deep reach and strong client relationships give us the edge in completing transactions," Institutional Property Advisors senior managing director Aik Aliferis said.
IPA, which operates under Marcus & Millichap, announced the completion of the deal involving two mid-rise apartment buildings: the five-storey 50 Selkirk Street, which comes with 75 units in 52,635 square feet, and the four-storey 350 Mayfield Avenue, which offers 61 units in 37,730 sq. ft.
"These two apartment assets are situated within a primarily residential neighborhood that has become increasingly popular with young families," Aliferis noted.
Ottawa's economy has steadily boosted the value of the asset class over the past few quarters, according to an Engel & Völkers report.
Much of the region's economic robustness can attributed to population growth levels, which stood at 8.8% as of the last reading. For perspective, the national rate was far lower at 5.9%.
"With the market absorbing condos at a faster rate, coupled with the market's population growth, there is a high probability of the local government approving more condo projects in the near future," Engel & Völkers explained.
"As a result of more condo projects flooding the market and the local economy evidencing steady growth, Ottawa will likely continue to be an emerging hot housing market in Canada."
The average sales price of a condo-class asset in Ottawa was $307,659 last month, exhibiting 14.3% annual growth.