Multi-family building permits on the rise: StatsCan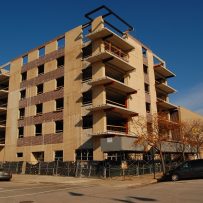 Story by: Reuters
The value of Canadian building permits jumped more than expected in December, driven by increased construction intentions for multi-family homes across much of the country, data from Statistics Canada showed on Monday.
The 11.3 per cent rise topped economists' forecasts for a gain of 5.6 per cent, though it was not enough to completely offset the 19.9 per cent decline seen in November.
Residential building permits climbed 16.3 per cent as plans to build multi-family dwellings such as apartments and condominiums rebounded by 39.1 per cent. Intentions to build single-family homes edged down 0.1 per cent.
Non-residential building permits rose 2.5 per cent as higher construction intentions for commercial buildings eclipsed decreased plans in the institutional and industrial sectors.
Alberta, which has been hit by the downturn in the energy sector, recovered some of the previous month's decline as the total value of building permits jumped 26 per cent. Overall, building permits rose in eight provinces, with Alberta racking up the biggest gain.
For 2015 as a whole, building permits totaled $85-billion, little changed from a year earlier, the statistics agency said. A 4.4 per cent increase in residential construction plans was offset by a 6.3 per cent decline in the non-residential segment.