Most sweeping rent controls in 25 years could end up making Toronto housing more expensive if building halts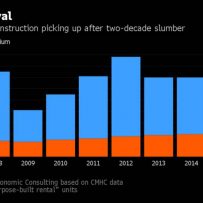 Toronto's trying to make it more affordable to rent in one of the world's hottest housing markets. New measures may have the opposite effect.
Ontario's government is set to impose the most sweeping rent controls in a quarter century, linking annual increases to inflation, with a cap of 2.5 per cent, on all buildings as it tries to keep costs under control. The measure, meant to protect tenants from price gouging, could end up making it more — not less — expensive to rent in North America's fourth biggest city.
The rules threaten to bring apartment construction to a halt, critics warn. At least one developer said he's scrapping all rental projects in the pipeline. Others are considering doing the same. This risks worsening the rental-housing shortage and hurting those already priced out of the for-sale housing market, where prices are at a record high even as the troubles at mortgage lender Home Capital Group Inc. threaten to spill into the market.
Lamb Development Corp. had seven apartment buildings in the works in Ontario — five in downtown Toronto — before Premier Kathleen Wynne announced the expanded rent control on April 20, part of the province's 16-point plan to cool scorching home price gains. The proposal calls for a rent cap on all units, not just those built before 1991 as mandated by current law.
Projects Abandoned
"We won't build these buildings as apartments. We will build condominiums," said Brad Lamb, Lamb Development's founder. "If you were to now ask 20 or 30 prominent developers about purpose-built apartments, they will tell you they are no longer viable in Toronto."
The government's decision puts $6.5 billion in potential rental investment at risk, according to Jim Murphy, head of the Federation of Rental-Housing Providers of Ontario, citing a survey of 40 of the its biggest members.
"This year was on track to be the best for new rental construction in decades, but this sudden decision to change the rules has thrown that all into doubt," Murphy said.
Lending laws put in place after Toronto's 1989 housing crash made it more difficult to finance rental dwellings, prompting many developers to turn to condos instead. About 9,000 rental units have been built in Toronto and its suburbs since 2005, compared with about 180,250 condos, according to Joel Conquer, a consultant at real estate research firm Urbanation Inc. Rental apartments are also often more cumbersome to maintain for developers compared with condos that are sold off.
However, in a tight market where home prices are expected to keep rising even though Home Capital's woes have pushed up borrowing costs, rental demand is increasing. Toronto-area rents shot up 11 per cent in the last three months of 2016, making it more lucrative for developers to consider entering the space.
Canada's price-to-rent ratio is among the highest in the world, indicating that it's cheaper to rent a house rather than buy — if you can find a home to rent.
The rent control also risks deterring solid investors like pension funds, which are lured by the stable, long-term income flows as rents rise. However, they'd need the returns that would come with annual rent increases of 3 per cent to 3.5 per cent, higher than the 2.5 per cent cap imposed by the government, according to Benjamin Tal, Toronto-based deputy chief economist at Canadian Imperial Bank of Commerce.
Kenneth Hale, legal director at non-partisan Advocacy Centre for Tenants Ontario, said Tal's thesis ignores the fact that the measure allows landlords to request permission to charge higher rents under certain circumstances, such as replacing a roof or appliances. It also allows an unlimited rent increase when a new tenant moves in.
"We see rent regulation as a consumer-protection measure enacted to make it more difficult for landlords to take advantage of the shortage of rental housing," said Hale, who is concerned government officials will buckle to industry pressure and water down the rent-control proposal before it becomes law. "All these big-time developers are coming out saying this is the worst thing that's ever happened in history. We are worried this may have some influence on them."
Ontario's majority Liberal party, which proposed the measures, didn't make any changes to the bill before last week's deadline to do so, spokeswoman Theresa Lubowitz said in an emailed statement. The government's housing plan will "support the development of new purpose-built rental housing and increase supply," she said.
'Price It Aggressively'
Tell that to Steve Diamond, founder and chief executive officer at Diamond Corp., who's re-evaluating his decision to build rental units in the Toronto region. Meanwhile, Medallion Corp., a closely held Toronto-based company, is struggling to price rents at the first phase of its six-building, $300 million rental complex in the Toronto suburb of Ajax.
"No one has built a rental building there in 40 years and we have to speculate what the rents should be because there's no hard data out there," said George Espinola, Medallion's director of residential property management. Price it too high, and demand suffers; too low, and you'd probably suffer losses because the rent control doesn't let you revise.
"We are going to have to price it aggressively," Espinola said. "We've got to be safe."
Bloomberg.com