Morneau to unveil tax plan changes in wake of fierce backlash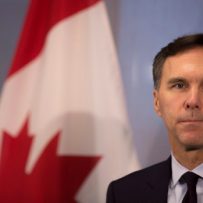 Finance Minister Bill Morneau will brief Liberal backbenchers Monday on changes he's making to proposed tax reforms that sparked a fierce public backlash.
Sources, who weren't authorized to speak publicly, say a special briefing early Monday morning is aimed at demonstrating to anxious Liberal MPs that Morneau has heard the concerns about his tax reform plan.
The proposed reforms were intended to put an end to measures which Morneau contends have allowed wealthy individuals who incorporate their small businesses to avoid paying their fair share of income taxes.
They triggered an angry backlash from doctors, lawyers, accountants, shop owners, farmers and even some Liberal backbenchers.
Morneau has acknowledged changes are needed to address some of the concerns raised, including complaints that the reforms would disproportionately impact women and make it impossible for farmers, fishers and others to pass their small businesses on to their children.
The reforms have also been denounced for hurting the very middle class Canadians that the Trudeau government claims to be trying to help.