Morguard makes towering reinvestment in Toronto rental market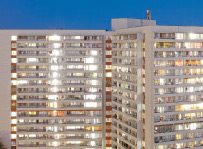 Story by: GUY DIXON, The Globe and Mail
From the upper floors of The Heathview apartment towers, there's a panoramic view of something puzzling about Toronto real estate.
South to the shore of Lake Ontario are the clustered outcroppings of condos. Precious few of the new buildings contain apartments purposely built as rentals. The demand for rentals is heavy, but developers have preferred to construct condos. So rental demand has been partly slated by the fact that nearly one-third of condos in Toronto are rented out by their owners.
Yet rental demand still remains high. The city's rental vacancy rate is just 1.6 per cent, according to the latest numbers from Canada Mortgage and Housing Corp. (The demand for condos is even tighter at 1.3 per cent.)
So while the condo boom has catered to apartment owners, few developers are interested in constructing purpose-built rental buildings. Particularly underserved are renters looking for apartments with condo-like amenities, but without the condo-like hassle of renting from an owner who might cancel the lease on a whim.
Property developer Morguard Corp. is targeting those kind of renters with two new towers of 586 apartments in Toronto's Forest Hill neighbourhood. The twin 30-storey Heathview towers are directly aimed at the purpose-built, condo-quality rental market, although Morguard at first had planned to hedge its bet, by having the 251 apartments in the south tower initially become condos, with 335 units designated as rentals.
"But before we started construction, our CEO and our board made the decision to make the whole project rental, which I think indicates our commitment [to the rental market]. Our strategy is to grow our existing portfolio, retain assets, retain management and effectively build our reputation in this city and the [Greater Toronto Area] as a provider of rental accommodation," said Brian Athey, vice-president of residential operations in Canada.
New rentals are scarce. According to Toronto's planning division, just 830 new purpose-built rental apartments have been added to the market since 2009.
Condos rented on the secondary market by their owners have flooded into that gap. Over those five years, 32,726 new owner-rented condos have been added to the market.
Until recently, rent levels haven't been high enough to make purpose-built rental buildings all that attractive to developers, said Shaun Hildebrand, senior vice-president at the Toronto real-estate consulting firm Urbanation. Rents have since been rising, yet their annual rate of growth has recently slowed.
So Mr. Hildebrand believes the market is now taking a longer term outlook. On the one hand, strong rental demand from a continual influx of people relocating to Toronto and people choosing to keep renting rather than owning makes the rental business attractive. On the other hand, he believes rents may have reached a new plateau.
"The outlook [for the rental market] is very stable. The demand seems to be structural, rather than temporary," he said.
Morguard's approach is different than the drive for quick profits that has propelled the condo boom. Purpose-built rental buildings are typically longer-term, value investments, providing slower, hopefully steady, income. The payoff can be large in the long term, but it requires patience.
It's patience that many other developers cannot afford when faced with having to recoup astronomical land costs. (Morguard owns and manages a $3-billion portfolio of 53 multi-unit residential properties in Canada and the United States.)
Morguard already owned the land beneath The Heathview. The company tore down its two apartment towers built in the 1950s on the site which Mr. Athey said were at the end of their functional life. The Heathview is effectively a massive upgrade, including an additional 100 or so more apartments in the new towers, he noted.
Apartments are still being leased. Since last summer as floors were completed and Morguard began to put units on the market, about 55 per cent of the north building has now been leased. About 20 per cent of the south tower, with its larger units and higher rents, has been leased since December as the units are made available. (A one-bedroom starts at $1,720 a month, and a two-bedroom starts at $2,530 a month, with rents rising the higher up you go.)
City hall encourages rental housing, but its concern is seeing affordable rental housing across the economic spectrum, rather than spurring specific niche rental buildings such as The Heathview.
"It's not a question of encouraging 'condo-quality rentals.' That is really a market response," said Gregg Lintern, director of community planning in the Toronto and East York district's city planning department.
The risk for developers building rentals (with condo-like rents on par with high rents in the secondary market) is maintaining strong demand over the long term as tastes change and renters look for what's fashionable and new.
"If you manage your buildings properly and provide good quality customer service to your tenants, all things being equal we should be able to maintain a very low vacancy rate, and we do across our Canadian apartment portfolio," Mr. Athey said.
Still, the market for condos and condo-quality rentals can be fickle. Supply can ebb.
Between 2009 and 2010, nearly 500 condo rental units were removed from the secondary market, making rentals more scarce, said the city's planning division.
Demand for the condo lifestyle, whether owned or rented, remains strong, however.
"Far from seeing a glut of supply in condos, the market has remained quite balanced, and you could even say tight in some cases. Certainly there's enough competition between buyers out there to see upward pressure on pricing," said Jason Mercer, the Toronto Real Estate Board's director of market analysis.
As Dana Senagama, senior CMHC market analyst of the Greater Toronto Area, added, "The market hasn't been able to supply the quality and the quantity in the primary rental market. So what's happened is that there are a whole bunch of condos out there held by investors being rented out."
But whether Toronto will see more rental properties like The Heathview remains to be seen. Indications are that condo-quality rentals have a market if developers can afford the long-term risks.
"It's a glimmer. I'm not sure it's a trend just yet, but we're hearing that, and we're seeing that in the numbers," Ms. Senagama said.
Rental numbers
Across the country, condo owners are absorbing some of the strong rental demand. Here are the latest numbers:
Toronto
– Vacancy rate in purpose-built, primary rental market: 1.6 per cent
– Vacancy rate in secondary, condo-rental market (condo owners renting out their condos): 1.3 per cent
– Percentage of condos being rented out: 28.9 per cent in fall 2014, 25.7 per cent in 2013, 19.5 per cent in 2010
Calgary
– Vacancy rate in purpose-built, primary rental market: 1.4 per cent
– Vacancy rate in secondary, condo-rental market: 1.1 per cent
– Percentage of condos being rented out: 30.6 per cent in 2014, 30.1 per cent in 2013, 27.6 per cent in 2010
Vancouver
– Vacancy rate in purpose-built, primary rental market: 1.0 per cent
– Vacancy rate in secondary, condo-rental market: 0.7 per cent
– Percentage of condos being rented out: 25.3 per cent in 2014, 26.3 per cent in 2013, 24.7 per cent in 2010