MORE ISSUES WITH NATIONWIDE EVICTION FREEZE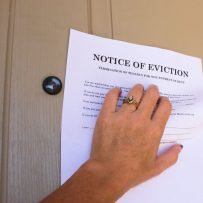 'They get to live for free': Sask. landlords want changes to province's freeze on evictions during COVID-19
A Saskatchewan landlord says she can't evict a tenant she claims owes her nearly $6,000 in late rent after the province placed a moratorium on evictions during the pandemic.
Mary Anne Donald rents a single-family home north of Moosoomin, Sask. to a family.
She told CTV her tenants have been behind on rent since November 2019, and while Donald said partial payments have been made, as of June 1, the tenant will be behind $5,990.
Donald said the province's moratorium on evictions has taken away her power to evict the tenant.
The Office of Residential Tenancies suspended evictions in March in response to the COVID-19 pandemic.
Under the temporary rule change, evictions are only allowed if a situation is deemed dangerous.
"For people in my position, if they have no incentive or desire to pay prior to the moratorium, why would they now? Because now they get to live for free," Donald said.
The Saskatchewan Landlord Association said it has been urging the government to amend the eviction freeze.
"The eviction ban is putting landlord's properties at risk," Executive Officer Cameron Choquette said.
"It doesn't allow us to evict people who are not paying rent or who are seriously abusing housing in the province."
Choquette said while many landlords and tenants have made arrangements on rental payments, there are some tenants who are not communicating with landlords and not paying rent.
"Tenants who have been stonewalling landlords don't deserve free housing because there is assistance available to them and that rent should be paid," Choquette said.
The association is asking for an amendment directive to the office of residential tenancies, allowing hearing officers some discretion in listening to claims from landlords who have taken appropriate steps to make arrangements with tenants, only to have tenants not pay.
"So we can protect landlords properties and the small business landlords who are not able to evict people who are deliberately withholding rent," he said
In a letter sent to the provincial government in March, the association recommended an alternative approach, suggesting the province to set up a rent bank to help tenants and landlords who have been financially strained because of COVID-19.
In the letter, Choquette said funds disbursed through a provincially-funded rent bank would be paid directly to landlords, ensuring that funds are used for the intended purpose.
On April 30, the province's social services minister Paul Merriman declined the association's request for a rent bank, adding it felt it would only help tenants and renters in the short-term.
"The rent bank model has not shown to be as effective for renters who might be faced with prolonged financial hardship," Merriman wrote in a response letter to the association.
Toronto homeowners fight to evict tenant 'taking advantage' of COVID-19
A Toronto couple says they are growing frustrated after a months-long fight to move back into their townhouse and evict a tenant who stopped paying rent and — they believe — is taking advantage of restrictions around COVID-19.
Edward and Yamile Koch moved back to Toronto from Chicago in January after Edward lost his job.
"We were looking forward to coming back," he said. "My parents are here. I've got two step daughters here."
They planned to move back into their townhouse, located near the waterfront in Etobicoke, by the end of January. Weeks before the move, they said they heard from a paralegal representing the tenant who said she planned to challenge the eviction.
In February, Ontario's Landlord & Tenant Board ruled in favour of the Koches with the tenant ordered to move out by March 31.
Around the same time, the tenant deposited a cheque from the couple equivalent to one month's rent for compensation, a legal requirement when landlords intend to evict in order to move back into a home. She also stopped paying rent and broke off communication, Edward Koch explained.
"We've tried on many occasions via email, via text to find out where things stand, why she's not paid, when she's going to pay and we haven't heard anything," he said.
Koch said he believes the tenant is capitalizing on the COVID-19 lockdown to not pay rent.
"For them to stop paying rent without any rhyme or reason prior to the impact of COVID just feels like they're taking advantage of the situation," he said.
Global News attempted to speak with the tenant but she did not answer her door.
The Ontario government suspended most in-person landlord and tenant hearings and enforcement of evictions in March after issuing an emergency order to contain COVID-19, leaving the Koches little recourse for now.
"I feel really upset," Yamile Koch said. "I feel defeated by the system."
In an email to Global News, a spokesperson for the board, Sarah Copeland, said in situations like this, if both sides cannot come to an agreement on their own, the landlord "may wish to seek legal advice."
On the suspension of hearings and enforcement, she said, "We recognize that this is a challenging time for everyone and we are appreciative of the patience and cooperation of stakeholders as the situation continues to evolve."
Meantime, Koch said he and his wife have already spent more than $20,000 on temporary housing and other expenses.
"We appreciate the attempt to safeguard the tenant from homelessness, but you've now replaced homelessness of a tenant with homelessness of a landlord or homeowner," he said. "It just doesn't make any sense to us."
Story by: CTV News and Global News