More high-rise apartments means more pressure on fire departments in Canadian cities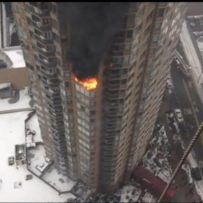 The 'condofication' of major cities such as Vancouver and Toronto is raising concerns about how well equipped fire departments are to deal with a blaze in the growing forest of high-rise apartments.
The latest to sound the alarm is Gordon Ditchburn, a former president of the Vancouver Fire Fighters' Union, who told CBC News he's troubled by the shrinking size of the city's fire department while Vancouver's population grows.
Speaking on CBC radio's morning show The Early Edition, Ditchburn said the Vancouver department's staff has shrunk from 900 members in the 1970s to 800 today. Meanwhile, the city's population has doubled.
"Do we have adequate resources in the city? I would argue we don't," said Ditchburn. "We are not keeping pace with the growth in the city, due to budget cutbacks. We've gone from 14 per cent of the city budget, 15 to 20 years ago, to less than eight per cent today."
The increasing number of downtown high-rise residences, with more in the planning stages as Vancouver boosts housing density in the name of affordability, means more firefighters are needed, he said.
"You've got to have more firefighters at the scene of a high-rise," said Ditchburn. "It's a small city within a city, and when you're climbing and you've got line 45 storeys and more, that's taxing on the body before we even start working."
Some might argue Ditchburn is simply interested in boosting the work force at the fire department. But he's not alone in raising concerns about the ability to cope with high-rise fires and other emergencies.
A horrific example of what can happen occurred in China in 2010 when a fire in a 28-storey Shanghai apartment tower killed at least 53 people.
The building was reportedly under renovation, said Chinese news outlets cited by the Guardian, and the fire apparently started in flammable building material and spread along bamboo scaffolding.
And last year, an apparent short circuit sparked a fire that consumed a 25-storey apartment block in Guangzhou, China that had stood unfinished for 10 years but was being used as a warehouse, theChina Daily reported.
No one was hurt but it took 350 firefighters and 58 engines more than 11 hours to put out the blaze.
Although modern concrete high-rise apartment buildings help to confine fires to one suite, they're still tricky to fight.
The equipment deployed on fire trucks has trouble reaching past the first eight or nine storeys. Sometimes the elevators don't work and equipment must be hauled up many flights of stairs.
A 2011 fire in a sprawling Toronto public-housing complex, which started in the 24th-floor apartment of a reputed hoarder, turned into a six-alarm blaze that forced the evacuation of more than 1,200 residents.
No one was hurt but the Toronto Star reported firefighters combing through the building turned up 15 other units with hoarding problems. The same building had suffered a fire in another suspected hoarder's apartment in 2009.
A post by Chief William Stewart on the Firefighting Canada website said the 2011 fire was a real test for the department. Many residents were trapped in their suites on floors above the blaze because smoke had filled the stairwells. Firefighters had to do a painstaking search, including forcing open 200 doors because tenants had changed the locks, he said.
Building density increases the challenge for emergency responders, Ali Asgary, a professor at York University's disaster and emergency management program, told the Star in 2012.
"The extent of the damage or loss differs from hazard to hazard, but in most cases you have more problems for densely populated areas than low-density areas," he said.
Ditchburn told CBC News it takes a gear-laden firefighter a minute per floor to climb 45 floors. Radio communication is also hampered sometimes by interference from a building's concrete and steel construction, he said, adding that installing radio repeaters in a building would help solve the problem.
Photo from ABC News
By Steve Mertl | Daily Brew