MORE AFFORDABLE HOUSING PROJECTS LAUNCHED IN ATLANTIC CANADA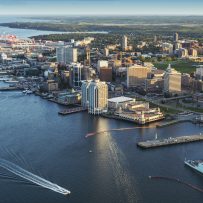 Federal funding has provided a significant boost to Atlantic Canada's affordable housing sector.
According to a ConstructConnect report, the national government stated last month that it will be pumping $14.75 million into the construction of a four-storey residential building offering 73 low-cost units in Bedford, Nova Scotia. The Bedford project will be offering rents equal to or lower than 21% of the region's median household income. Moreover, at least 26 units will have affordable rent rates for at least 16 years.
Earlier this month, the Canadian government also announced that it will be providing $20.36 million for the development of two new social housing complexes in Stratford and Montague, Prince Edward Island. Together, the buildings will be offering 106 rental housing units.
The Stratford building will feature 61 units, 30 of which will be low-cost housing. Meanwhile, the Montague project will offer 45 units, 30 of which will be at affordable rent rates.
These initiatives are among the latest in the Canada Mortgage and Housing Corporation's (CMHC) blueprint for the creation of more low-cost dwellings nationwide over the next decade.
Earlier this month, the federal government announced the launch of a new affordable rental housing project in Saskatoon. The project will be developing semi-detached homes specifically designed for the needs of individuals with varying degrees of mobility.
"People and families living with disabilities have unique needs that are often underserved by the market," according to Ahmed Hussen, the minister responsible for CMHC. "The National Housing Strategy prioritizes individuals and their families who live with disabilities, to help build stronger and more inclusive communities. With our Government's investment in Saskatoon, six families now have access to safe and affordable housing, which will certainly have a positive impact on their lives."
Story by: Mortgage Broker News