Montreal's largest mixed-use complex to arise soon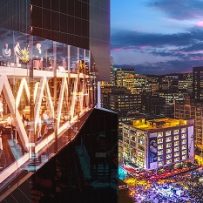 Devimco Immobilier, in cooperation with the Fonds immobilier de solidarité FTQ and Fiera Properties, has announced the development of the MAESTRIA mixed-use project, which will be the largest of its kind so far in Montreal's Quartier des spectacles.
Construction of the 2 towers (51 and 53 storeys tall) will commence by the end of next year. The entire complex will offer 1,000 condo units and 500 rental spaces.
Marketing of units will start on February 2019, with the spaces offered ranging from 300 up to 2,500 square feet. MAESTRIA will also have 512 interior parking spaces, along with a diverse selection of high-class amenities.
The $700-million development will be accessible to Jeanne-Mance, De Bleury, and Sainte-Catherine streets.
"We are proud to be building a distinctive, avant-garde property that will help enhance the urban fabric of this booming arts and culture district," Devimco Immobilier president Serge Goulet said.
"With this landmark project, we intend to maintain the Devimco tradition of creating a living environment with mixed uses that will serve project residents as well as visitors to this highly popular part of Montreal."