Montreal prices accelerate as sales reach new record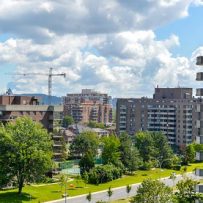 Home prices in Montreal continued to grow as sales reached new heights last month, according to the Greater Montreal Real Estate Board.
The median price of a single-family home in the market increased by 7% on a year-over-year basis in December, reaching $327,450. Meanwhile, the median price of plexes grew by 8% during the same time frame to settle at $525,000, and that of condos by 3% to $272,863.
These coincided with the market's achievement of a new home sales record for December, growing by 3% annually to reach 2,825 completed transactions.
December was also the 46th consecutive month of growth in the number of transactions, according to the GMREB.
Single-family homes accounted for 1,491 sales, growing by 3% annually. Condo sales also increased by 2% (up to 993 deals closed), while plexes shrank slightly by 1% (down to 336 transactions).
Montreal's supply stood at 18,970 active residential listings as of the end of 2018, which was 18% lower compared to the same time in the previous year.