Montreal Is Canadas Next Hot Housing Market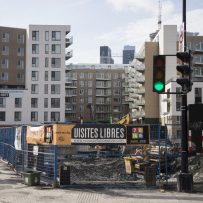 Montreal's housing market is finally getting on the map.
An economic revival in Canada's second-biggest city is fueling a real-estate renaissance, speeding up sales, shrinking inventories, and luring foreign buyers. More stringent lending rules have curbed transactions and slowed price growth in Toronto but have had little effect on Montreal, where buyers are flocking to new condos and sellers are gaining the upper hand.
The trend continued in April, as home sales rose 10 percent from a year earlier. By contrast, Toronto posted its weakest sales for the month in 15 years, while activity in Vancouver fell 27 percent, even as prices in both markets were stable.
Montreal's rebirth is showing in ways big and small. Devimco Immobilier Inc., a developer that sold a record 1,180 condos downtown last year, is moving up two towers because of high demand, with calls coming in from as far away as China, special adviser Marco Fontaine said in a phone interview. Montreal, long the "neglected child" at Canadian real-estate conferences, is now a topic of discussion, he said.
"There's an incredible buzz," Fontaine said in a phone interview. "We're much cheaper than Toronto and Vancouver and that's attracting a lot of interest."
Economic Driver
The biggest drive is economics. According to think tank Institut du Quebec, Montreal added more jobs in 2016-17 than in the previous eight years, with companies including Amazon.com Inc. and International Business Machines Corp. opening new data and tech centers. The city, where both French and English can be heard on the street, is also 
growing into an artificial intelligence hub that's home to Thales SA and Facebook Inc. research labs.
Analysts don't see signs of overheating yet. Houses in the city, which is known for a vibrant food and cultural scene and universities such as McGill and Universite de Montreal, are still a bargain compared with the country's most expensive markets. At C$317,000 ($246,673), the median detached house price for the greater Montreal region compares with C$870,000 in Toronto and C$1.4 million in Vancouver, according to the local real estate boards.
And Then There Was One
Of Canada's biggest cities, only Montreal is seeing annual home-sales gains:
Still, the number of properties that sold for more than C$1 million grew 20 percent last year according to Sotheby's International Realty, which expects Montreal to lead major cities in the luxury market segment this spring. Growth for both benchmark prices and the number of transactions in the resale market has outpaced Toronto's this year. And pressure on prices — which rose 7 percent for houses and 3 percent for condos last year — is set to creep up, the Canada Mortgage & Housing Corp. said in a report last week.
"Demand is strong and the number of properties for resale is down, so market conditions are getting tighter," CMHC analyst Francis Cortellino said in a phone interview. "The Montreal market is very dynamic at the moment."
Daniel Cholewa, who as chief executive officer of Keller Williams Urbain in downtown Montreal oversees a network of more than 100 brokers, says transactions in the first quarter were up 45 percent from a year ago, the best market he's seen since entering the business a decade ago. Stories of bidding wars and 48-hour sales are becoming more frequent, he said.
"The market has been so stagnant and has been such a buyers' market for so long here that growth is natural and it's necessary," he said in a phone interview. "The fact that this has been happening is a really good thing."
Space Limits
The lack of building space on the island of Montreal is making detached homes a rarer find and will underpin a 5 percent increase in prices this year, Paul Cardinal, market analysis manager at the Quebec Federation of Real Estate Boards. Condo prices will rise a more modest 3 percent on average, though they are already up by more than 10 percent this year in some neighborhoods, including in several suburbs off the island, he said.
There's also evidence that foreign buyers, now the target of a tax in Ontario and British Columbia, are taking a keener interest in Quebec's biggest city. They owned 1.7 percent of condos in Montreal last year, up from 1.1 percent in 2016, according to CMHC data. That's getting closer to Toronto's 2.5 percent and Vancouver's 2.2 percent.
Chinese buyers, who can fly direct from Beijing and Shanghai, have emerged as the third-largest group by nationality after the U.S. and France, accounting for 16 percent of transactions in the province in 2017, from just 1.3 percent a decade earlier, according to Quebec budget documents.
Foreign capital moved east from Vancouver to Toronto, "and now you're starting to see some of that capital floating into Montreal," Cameron Goodnough, CEO of Timbercreek Financial Corp., said in an interview.
Mandarin Please
The industry has been quick to adjust. Engel & Volkers Montreal now has seven mandarin-speaking brokers, after hiring the first one in late 2015, owner Debby Doktorczyk said in an interview. Foreign demand "is getting stronger and stronger," said Doktorczyk. "The Asia market has now taken a space it didn't have just two years ago."
Montreal on Fire
New downtown condo sales took off: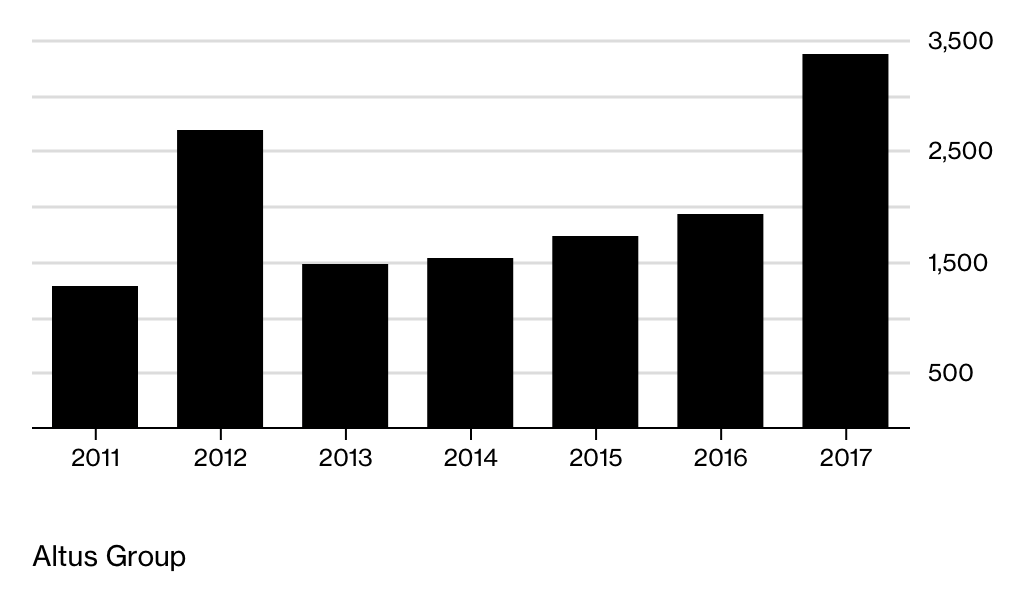 A favorite location for foreign buyers is downtown, where the number of new condos sold in 2017 hit the highest in the seven years that advisory firm Altus Group Ltd. has monitored the market. That area includes Griffintown, a former industrial neighborhood that was once the land of adventurous first-time buyers and is now attracting wealthier households as it adds stores and restaurants, Altus's Director Vincent Shirley said in a phone interview.
People are signing up for new condos faster than they used to, cutting the number of sales events developers and brokers need to put up. Long gone are the days when a glut of condos was giving buyers the power to ask for parking or appliances, Shirley said.
"I say good luck to potential buyers showing up at a sales office today to negotiate anything," he said. "That's over."
— With assistance by Erik Hertzberg, and Frederic Tomesco