Montreal housing activity impelled by particular demographics – study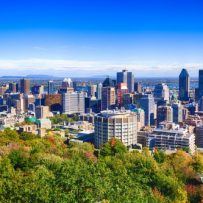 Consumer demographics are an increasingly important driver of sales activity in the Montreal housing market, according to Royal LePage Altitude broker Maxime Tardif.
"Baby boomers looking for smaller units, millennials increasing their purchasing power, and more foreign buyers contributed to a hike in condo prices and demand in the past three years," Tardif said.
In addition, the region's geography is contributing to the steadily growing presence and popularity of multi-unit housing.
"Available land is limited on the island; builders and developers are making every square foot count. As a result, more high-end, spacious units are being constructed in the suburbs, particularly near transit stations."
"The outskirts of the city are becoming attractive to many home buyers who are willing to trade shorter commute times for more square footage and better affordability. With the transit system expansion that the REM will bring by 2021, commuting to the city core will be easier and make living outside the city centre more desirable."
These findings supported the latest figures from the Quebec Professional Association of Real Estate Brokers, which stated that the city's condo sales volume increased by 16% annually in July. This mirrored the percentage growth in activity across all housing types during the same time frame, reaching a new high for that month (3,698 transactions).
The average price of condos went up by 5% year-over-year, up to $278,600. Royal LePage data also showed that during the first seven months of the year, the median price of the property type increased by 7.9% annually to $433 per square foot. Single-family detached properties saw their value rise by 6.9% to $313 per sq. ft.
The Greater Montreal area's condos went up by 10.3% year-over-year, up to $286 per sq. ft. To compare, single-detached homes saw 5.2% growth during the same time frame.