Montreal: Canada's next investors' paradise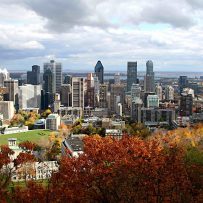 A city of multiplexes — which continue to yield high returns for investors — Montreal's burgeoning condo market is also attracting international attention. In particular, the southwest neighbourhoods of Griffintown and neighbouring St. Henri, the latter of which has rehabilitated its rough and tumble image through gentrification, are the surest bets, according to Fred Serrecchia, Partner, Broker of Record and Head of Real Estate at Montreal-based NestReady.
"Things are changing quite rapidly," he said. "The condo market has seen absorption, and new developments like the ones in Griffintown and St. Henri have made them unrecognizable. A lot of inventory has gone up there and it's all being absorbed incredibly well."
Griffintown's proximity to downtown Montreal and the Lachine Canal, where waterside condos are sprouting with state-of-the-art amenities, has made it the hottest neighbourhood in town. From an investor's standpoint, because most buildings are very new, they're exempt from the rent control that applies to builds more than five years old.
"Griffintown is not entirely subject to rent control because of the new buildings, so rent is increasing faster there than anywhere else" making it ripe for investment, added Serrecchia. "It has a demographic that consists mostly of young professionals, so it's lively — they prefer Griffintown. It's also on the water by the Lachine Canal, which is a beautiful place to hang out. People realized the limited supply on the water."
Serrecchia says key factors have conspired to propel Montreal to the acme of Canadian real estate investment. For starters, the city saw a 6% increase in sales year-over-year as of June 2017, and the provincial unemployment rate is at its lowest since 1976, when a Montreal brimming with optimism hosted the Summer Olympics.
"Economically over the last year, it's changed here," continued Serrecchia. "The unemployment rate is at its lowest in 41 years and the public transit is very good. Montreal is also becoming a world leader in the Artificial Intelligence industry. A lot of people think there's a long way to go, but we're on the right path."
Unique to Montreal is its abundance of multiplexes — of which there's a paucity in the rest of the country — in some of the city's densest areas. Serrecchia called them an optimal investment, especially those with three to 12 units, because of their purchase-friendly price tag.
Montreal has long been among the North American cities with the most students per capita, ergo, owning a multiplex in the McGill Ghetto on the Plateau-Mont-Royal's western border, and next to the world-class university, is a no-brainer, says Serrecchia.
"We've always had international students renting condos," he said, "but the McGill Ghetto is full of renting students. It's easier to normalize your rent because rent in Montreal is cheaper than most cities, so you can increase rent more because of the higher turnover."