Montreal by-law mandates developers to help improve affordability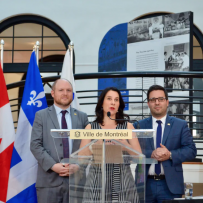 Montreal's new by-law is strictly requiring property developers to help improve the availability of low-cost homes in the market.
Last week, the city government unveiled its By-law for a Diverse Metropolis, which included the mandate as a prerequisite for multi-family construction permits.
"To qualify for a residential construction permit, the contractor will have to enter into an agreement with the city, whereby they will contribute to increasing the supply of social, affordable and family housing, either by building new dwelling units, transferring land, or paying a financial contribution," the Montreal government announced.
The government promised that this new set of regulations will not harm the city's market and economic stability.
"We strive for a greater and more inclusive housing supply, but not at any cost," according to Robert Beaudry, executive committee member responsible for economic and commercial development, housing and design.
"We believe we have developed a tool that will provide a solid framework all while propelling the construction of social, affordable and family housing units, without compromising the vitality and affordability of the residential market as a whole."
Mayor Valérie Plante also vowed that the by-law will pave the way for "the Montreal of the future."
"To maintain the quality of our living environments, along with the diversified housing supply that Montréal is known for, we must broaden our vision," Plante said.
"We have developed this by-law in an effort to maintain affordability, to continue to be welcoming for families, workers, students, seniors and newcomers, all while offering quality housing to low-income households."