Montréal baby boomers not yet returning to rental market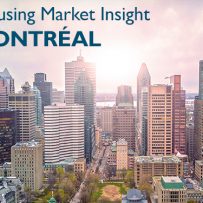 This report looks at the influence of Montréal baby boomers on the real estate market, comparing data from 2006 and 2016. The boomers are divided into four cohorts, by their age in 2016, as follows:
1 (65 – 69 years old)

2 (60 – 64 years old)

3 (55 – 59 years old)

4 (50 – 54 years old)
Overall, over time, baby boomers have tended to own rather than rent. Still, it is often put forth that many baby boomers, as they get older, sell their property in order to return to the rental market. Trends in the proportion of renters in 2006 compared to the proportion in 2016 were as follows:
In cohort 1, the proportion of renters increased by only 0.3 percentage points.

In cohorts 2, 3 and 4, the proportion of renters decreased by 1.1, 2.2, and 4.8 percentage points, respectively.
As a result, boomers have not significantly supported demand for rental housing in recent years.
Among baby boomers who were homeowners, the proportion owning freeholds was highest. However, this decreased by about 6 percentage points for all cohorts from 2006 to 2016, to reach 79.9%, for cohort 1, and 86.1%, for cohort 4. A small proportion of baby boomers, as they got older, sold their home in order to buy a condominium. This may have stimulated demand for this housing type.
The proportion of baby boomers who, as they got older, opted for a smaller home seems relatively low for the moment. This phenomenon was slightly more marked among baby boomers who owned larger homes (8 rooms or more). This suggests that the size of less spacious homes already adequately (or better) meets their needs.
Few baby boomer households left the Montréal suburbs to settle on the Island of Montréal in 2016. Baby boomers from the suburbs therefore had little impact on demand for rental apartments and condominiums on the Island of Montréal.