Mixed-use transit hub project to arise in Waterloo Region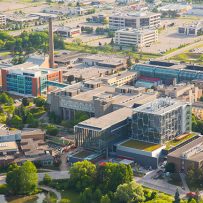 The Region of Waterloo has taken its initial steps in the development of the King Victoria Transit Hub in Kitchener, having launched the first phase of bidding for private developers.
"This high profile project is predicted to change the way people think about Waterloo Region," the Region stated in its announcement of the large-scale development.
The mixed-use transit hub will incorporate "seamless access to multiple modes of transportation and integrated residential, office and retail space. More importantly, the hub will connect our community to the Toronto-Waterloo Innovation corridor, promoting growth and generating substantial economic development."
"By creating a landmark stop with space to live, work and shop, the transit hub will offer Waterloo Region much more than a better commuting system," Regional Chair Ken Seiling added.
The request for qualifications (RFQ) phase is meant to draft a short list of applicants for the final request for proposal. RFQ closes on June 30, and the short list is scheduled to be announced on September 2017.
The Region stated that it will sell the property to the winning bidder, who will be responsible for the construction of the transit hall and related structures.
"Once complete, the transit hub will connect Grand River Transit (local buses), ION (light rail), GO trains, VIA rail, inter-city buses, taxis, pedestrians and cyclists. The onsite buildings will include residences, offices and stores. The site will also incorporate public spaces and transit support areas like pick-up and drop-off areas, bus bays and links to trails/paths."
Click here for more information about the project.