MIXED-USE PROJECTS HAVE BENEFITS BUT THEY CAN'T BE FORCED, SAY DEVELOPERS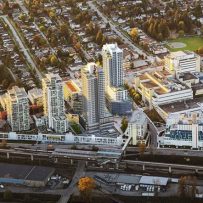 Cities need to lower their expectations for mixed-use projects if they want them to be successful.
"The policies that are forcing office, affordable housing, condo, rental, market rental, retail – they're creating Frankenstein developments that are not feasible," said Derick Fluker, senior vice-president, acquisitions and asset management with Wesgroup Properties, developer of the River District in Vancouver and the Brewery District in New Westminster.
While the time-tested combination of retail at grade and residential above has roots stretching back millennia, Fluker told the recent Vancouver Strategy and Leasing Conference that Lower Mainland municipalities have upped the ante by asking projects not only deliver space but civic goals.
"All the municipalities want to see retail at grade, an office podium, and then they're shrinking the amount of condo you can get, and in many cases layering in affordable housing," he said. "It's hard to pull off. I would say a lot of these policies are getting too complicated and are trying to jam too many uses into one building."
The challenge of financing mixed-use projects issues as well as combining uses that may not be the best fit with each other in a single project make them a challenge for the developer, and not always palatable to potential occupants or the surrounding community.
"You have to really make sure you're getting the design right because you're doing the three, four, five different user groups," said Matt MacLean, senior vice-president, commercial sales and leasing, with Cushman & Wakefield, who joined Fluker on a panel focused on mixed-use and densification. "It takes a huge thought process."
MacLean has extensive experience with industrial projects in the Mount Pleasant area of Vancouver, and says the combination of industrial with retail, office and so-called "creative industrial" uses on upper levels needs to take into account how the building will be used, venting and other elements.
"We've had about 20 different iterations on different design elements. And coupled with design, developers and owners have to be very careful how they put together their bylaws," he says. "Design is really important to these projects, and they're not always successful."
Some uses fit naturally together when they're built around amenities, however.
MacLean singled out Burrard Place, where 30,000 square feet of amenities are available to both residents and commercial occupants. Project developer Reliance Properties Ltd. is also incorporating shared amenities into its planned office tower at 1166 West Pender Street.
He also pointed to the Rosewood Hotel Georgia, where the College of Physicians and Surgeons of BC bought 60,000 square feet in 2011, including access to hotel amenities, also available to owners of the tower's residential units.
With employers looking to attract workers back to the office, amenities can be key differentiators.
"It's definitely going to be a big value point for employers to have that type of amenity," he said.
But even here, caution is advised.
Speaking at the Western Canada Lodging Conference last month, Jeff Cury, senior director, development, Canada with Hilton Hotels said hotel developers can leverage a mix of uses to mitigate financing issues, but they need to retain control of amenities.
This isn't just a good fit with their expertise in hospitality, but also maintains the higher level of service that hotel guests expect versus what a local resident might.
The guest experience is also key for Emilie Lok, who oversees leasing for Westbank Properties Corp. A mixed-use building allows guests to experience what a project might be like without having to buy in. This supports the buildings reputation, helping define it in the public imagination.
"What it adds is also the experience – anyone can experience without having to buy a condo in one of your projects," she said. "If you're building luxury, there's the opportunity for people to come in and anyone can sit in the lobby lounge or they can book a hotel room."
Another risk factor is the location. A mixed-use project by itself won't be a success unless the actual programming is right. Shifting retail trends can make this a challenge at grade, while projects with insufficient parking or off transit will also suffer.
"You have to tailor your building to the demand, whether that be a residential tenant, a commercial tenant," said Rob Eyers, vice-president, leasing at Third Space Properties Inc. "If you don't tailor a building to them, you'll never be successful."
Cities that try to push projects forward without taking use and location into account risk disappointment.
"As a city navigates these new mixed-use concepts, I think they're going to be learning and they may not always be successful," MacLean said. "There's a lot of really great benefits to mixed-use and the intensification of it, but it's still got a long way to go."