'Missing middle' key to solving housing affordability, experts say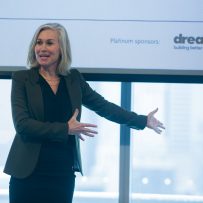 With real estate markets continuing to heat up across the country, there are few topics hotter in Canada today than housing affordability. Just recently, the Liberal government put affordable housing at the core of its agenda, and the City of Toronto announced a $24-billion housing action plan which aims to build some 40,000 new dwellings over the next 10 years.
For Councillor Ana Bailão, housing is more than just a hot policy topic: It's a human right. The deputy mayor of Toronto urged citizens to get involved in urban planning in her opening remarks at the National Housing Innovation Series, hosted by the Canada Mortgage and Housing Corporation (CMHC) and The Globe and Mail on Dec. 6 in Toronto.
"Cities have the capability of providing something for everybody, only because, and only when, they are created by everybody," Bailão said, quoting activist and author Jane Jacobs.
Evan Siddall, chief executive officer of CMHC, also issued a rousing call to action based on the corporation's ambitious target of offering an affordable home for every Canadian by 2030.
"Putting a man on the moon was one thing, but affordable housing for everyone in Canada? Come on, don't be naive," he said, lampooning the critics and drawing laughs.
Siddall's recipe for hitting the goal? Increasing density in Canada's big cities and accepting that rental housing will be a large part of the solution.
"Gentle densification isn't enough. It's a good place to start. But intense and even aggressive densification is necessary," he said.
"We need to stop taxing density and call out the glorification of home ownership for the regressive canard that it is. Overpromotion of home ownership is counterproductive, increasing the division between rich and poor."
But for speaker Cherise Burda, increasing the supply of housing is not a solution on its own. The executive director of the Ryerson University City Building Institute says it must be coupled with creative thinking.
"If we can't squeeze affordability out of the thousands of condos built in the last 10 years, how can we expect to do any better without a different approach?" she asked the room during her talk on innovative solutions to housing problems.
According to Burda, governments should prioritize gentle density, or what she calls the "missing middle" between single homes and condos in Toronto's "yellowbelt," the midtown and suburban neighbourhoods currently given over to detached houses.
While this development has already begun, she noted that units in the "missing middle" have the potential to stimulate neighbourhoods currently struggling with aging populations, smaller household sizes and school closures.
Burda quoted figures from architecture firm JCI, which show that transitioning just one per cent of single-family dwellings in Toronto to the "missing middle" would yield 44,000 new units, the equivalent of 140 new high rises. And, she pointed out, creative incentives for smaller developers could be more effective than the current model of discounted leases for large projects that include some affordable units.
"Policy could be crafted to target end users and affordability," she said. "We know this might not happen for big development sites, but our residential neighbourhoods represent a final opportunity to get this right, and I would argue that the stakes are too high to get it wrong."
Another city which has recently increased its density is Los Angeles. But Christopher Hawthorne, the city's chief design officer and former Los Angeles Times architecture critic, says LA's reputation as a town of single-family homes and freeways obscures a more complex history.
Approvals for accessory dwelling units – smaller second dwellings attached to houses or built in backyards, otherwise known as 'granny flats' – grew from 90 to 4,171 between 2015 and 2018, a gentle density success story from which Canadian cities could learn a thing or two.
And Minneapolis, another U.S. city to recently re-evaluate its housing policy, has had to reckon with the long-term corrosive effects of racial discrimination in so doing. For Heather Worthington, director of long-range planning for the City of Minneapolis, affordable housing requires a coalition of residents willing to advocate for change, including "yes in my backyard" activists who are open to real estate development.
She recommended Canada's policy-makers work on garnering the same energy behind the creation of affordable housing here. "I've noticed you don't really have YIMBYs here. May I just say, they are helpful," she said.
Jennifer Keesmaat, former Toronto chief city planner and CEO of the Keesmat Group, says there is no better time to build up this energy than now. Though there may be disagreements on policy, she said, the country's economic conditions favour development and there is a broad consensus around the ideas of city growth and housing affordability.
"The question we're confronted with right now is how do we ensure we capture this moment and move to action," she said.
"That's what's staring us in the face at this moment in history. We could be on the cusp of a phenomenally exciting moment in our country's history where we unlock access to housing."