Metro Vancouver apartments, condos face fines for food scraps on July 1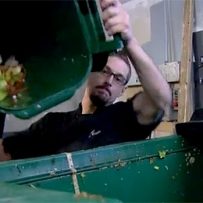 Story by: Chad Pawson, CBC News
Region to start levying fines effective July 1, but some organic waste recyclers not ready
Some organic waste recyclers say many apartment buildings in Metro Vancouver still don't have a system to keep food scraps out of the garbage.
In January the region banned organics from landfills and incinerators. For the past six months it's used education programs, but no fines to encourage buildings to comply.
But on July 1, fines for bringing organics to landfills are set to begin even though Metro Vancouver says the threshold will be high to allow more time for people to get set up.
"I feel like there is a lot more strata or residential, multi-residential buildings out there that need a solution," said Nick Amado, who owns EcoAction Recycling.
Since January he's gained 40 multi-unit residential buildings or MURBs as clients across Metro Vancouver.
There are 17 other haulers listed as service providers on the City of Vancouver's web site, but Metro Vancouver has an estimated 3,800 apartment and condos complexes that are required to have a food scraps program in place.
"We don't know how many [or] what percent of MURBS are complying with the ban," wrote Andrew Marr, the solid waste director for Metro Vancouver in an e-mail to CBC News.
"Our inspectors visually check loads of waste that are delivered to our disposal sites, and those loads are often collected from more than one location. A MURB may be on the same route with other MURBs and commercial businesses."
Many already in compliance region says
Metro Vancouver says that for the past six months only one per cent of haulers who have brought organics to disposal sites needed an education notice.
"This means that the vast majority of loads (and the homes and businesses from which those loads were collected) appear to have started diverting much of their organics already," wrote Marr.
According to Greater Vancouver bylaws a hauler whose load contains organic waste that exceeds either 25 per cent of the total weight of the load or 25 per cent of the total volume of the load must pay a surcharge of 50 per cent of the tipping fee.
Haulers would then have to figure out which of their clients are still dumping food waste and pass on the surcharge to them.
In the meantime Vancouver residents in apartment buildings, who do not have a diversion system in place and do not want to throw food waste in the garbage, can take it to a drop spot at one of four farmer's markets.
The program used to have more locations open throughout the week, but they're being scaled back as the organics ban is supposed to make them redundant.
But Amado says he's heard from residents in apartments who are frustrated that their landlords have done very little to put a diversion system in place.
He says Metro Vancouver needs to crack down.
"Plain and simple, fines. People are not going to do something they need to unless they're forced to do it," he said.
Metro Vancouver says the two biggest obstacles getting in the way of organics collection at apartments and condos are limited space for bins and odours.