Mega-trend: A look at 6 major redevelopment projects underway in Toronto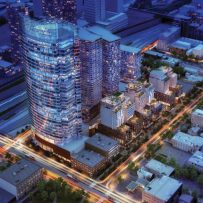 Story by: Monika Warzecha | BuzzBuzzHome
In downtown Toronto, many new developments are skinny infill projects squeezing into whatever slivers of land are still available.
But Toronto is currently building entirely new neighbourhoods, from the West Donlands to Downsview. We're taking a look at some of these headline-grabbing undertakings and trying to unpack what exactly is happening in these mixed-use, master-planned, multi-phase redevelopments that span acres and acres of land.
Regent Park Revitalization
Where: Bordered by River Street to the east, Queen Street East to the south, Gerrard Street to the north and Parliament Street on the west
Background: Built in the 1940s, Regent Park is known as the largest and oldest social housing project in Canada. Concerns about substandard housing and social problems arose over the decades, eventually leading to a decision in 2003 to launch a wide-scale revitalization, essentially knocking down all the existing social housing and rebuilding a mixed-income community.
Redevelopment size: 69 acres
The big players: Toronto Community Housing (TCH), City of Toronto, The Daniels Corporation
Residential mix: Rent-geared-to-income units will number 2,083 in total (over 1,800 in Regent Park and 266 in new buildings nearby). There will be over 210 affordable rental within Regent Park and 100 in new buildings closeby by the end of Phase 2. According to TCH, additional affordable rental units in future phases will be subject to funding availability. There will also be 5,400 market rate units.
Commercial space: Many of the new condos will include ground level retails space. So far, Freshco, Rogers, Tim Hortons, RBC and Main Drug Mart have moved into newly created retail space. There is also office space, including the co-working hub the Central For Social Innovation – Regent Park, in the Daniels Spectrum.
Institutional space: Daniels Spectrum, a 60,000 square foot community cultural hub featuring galleries, performance and exhibition spaces.
Public space and amenities: The award-winning Regent Park Aquatic Centre opened in 2012 and is equipped with a lap pool, leisure pool, warm water pool and more. In 2014, a six-acre park opened featuring a playground, splash pad, multi-purpose green space, plaza for community events, dog off-leash area, community gardens, greenhouse, bake oven and walkways. The project will also be home to the 2.8-acre Regent Park Athletic Grounds, which will come equipped with a refurbished hockey rink, a new basketball court, a new soccer/cricket pitch and a running track.
Status: The revitalization kicked off in 2005 and is expected to take 15 to 20 years to complete. It has five phases altogether and Phase 3 is currently under construction.
Daniels Waterfront – City of Arts
Where: Lower Jarvis and Queen's Quay East (East Bayfront)
Background: A mainstay of the Toronto club scene since the late 1990s, the 2.8-acre Guvernment and Koolhaus Entertainment Complex hosted a number of big-name acts from the Rolling Stones to Lady Gaga. Sold in spring 2014, the last show at the Guvernment was held in late January of this year.
Redevelopment size: 1,320,000 square feet of space in total
The big players: The Daniels Corporation, Artscape, George Brown College and OCAD University.
The residential mix: More than 900 suites in two condo towers, adding up to 650,000 square feet of living space.
Commercial space: Two office towers with 280,000 square feet of commercial space, plus a 150,000 square foot 'Creative Industries Hub.' Retail will take up an additional 27,000 square feet.
Institutional space: George Brown and OCAD are both considering expanding into the 240,000 square feet of post-secondary academic space.
Public spaces and amenities: Landscape Architecture firm Claude Cormier + Associates will be extending the popular Sugar Beach to the site. 'The Yard,' an east-west pedestrian link between Lower Jarvis and Richardson Streets, will feature retail, cafés and restaurants as well as festivals and special events.
Status: The proposals were unveiled in late March of 2015.
Honest Ed's/Bloor and Bathurst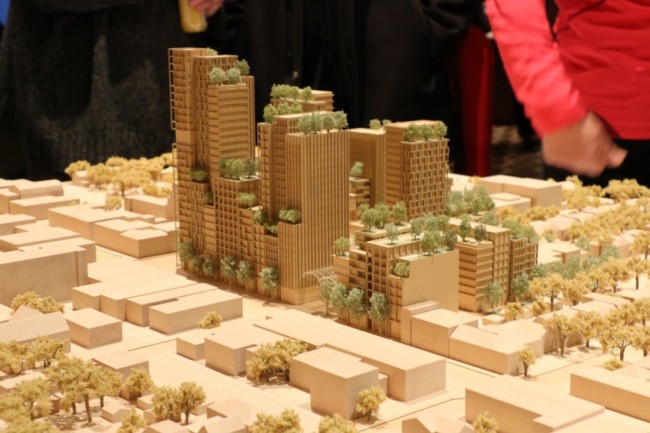 Photo: James Bombales
Where: Bloor and Bathurst
Background: In 2013, Westbank Properties, a Vancouver development company, purchased the Honest Ed's discount store and the nearby properties the Mirvish family had acquired over the years on Markham Street.
Redevelopment size: The site is about 4.4-acres altogether. The tallest tower proposal would be at the corner of Bathurst and Bloor and stand 29-storeys high.
The big players: Westbank Properties
Residential mix: According to the preliminary proposals, the redevelopment would introduce 1,000 purpose-built rental units to the area. Housing will be integrated into the 40 or so individual buildings that will be located on site.
Commercial space: Aside from a large-scale market space, there are also ideas for an outdoor, covered market. There'll be a focus on mirco-retail in Honest Ed's Alleys, as well food trucks, makerspaces, pop-up shops and a partnership with the Centre for Social Innovation, a co-working space. A number of the Victorian homes with ground-floor retail along Markham will be saved.
Public space and amenities: There's talk of introducing community gardens to the site as well as a pedestrian-only zones to the project.
Status: Westbank unveiled the early ideas for the site at an open house in early March 2015 and is planning additional community outreach endeavours before submitting their development application to the city this fall.
The Well
Where: Spadina and Wellington St. W.
Background: The Globe and Mail will be vacating its current headquarters at 444 Front Street West for a new King Street East office tower in late 2016. The newspaper's parent company sold the site of the office building as well as the neighbouring parcel of land, home to a car dealership, in 2012.
Redevelopment size: 7.7 acres.
The Big Players: RioCan REIT, Allied Properties REIT and Diamondcorp.
Residential mix: Roughly 1.1 million square feet will be residential, in a combo of condos and townhomes.
Commercial space: The Gross Leasable Area (GLA) for office space will measure 1.1 million square feet. Retail is expected to cover 600 million square feet and take its cues from the Butler's Wharf area in London, England, which features open-air shops and restaurants. It's been suggested that a large-scale food shop will act as an anchor tenant, though the majority of the retail spaces will be smaller, or boutique-sized.
Public space and amenities: Claude Cormier Landscape Architects will design the green spaces. There are plans for a pocket park off of Draper Street, a large green space off of Wellington Street West and seating clusters throughout the site. Plans for the site include pedestrian-only pathways running north to south, with links at Wellington and Draper streets.
Status: An application have been submitted to the City of Toronto. A Design Review Panel was held in late March 2015.
The West Donlands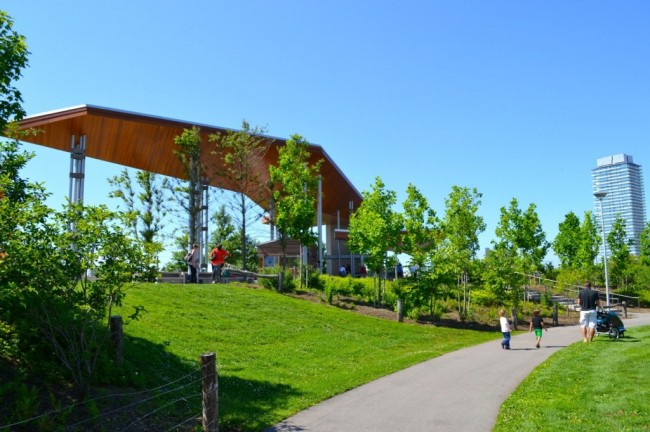 Where: From Parliament Street to the Don River, King Street to the Rail corridor
Background: Largely made up of vacant industrial land owned by the province, Ontario put the parcel in the hands of Waterfront Toronto in 2006.
Redevelopment size: 80 acres in total, with 6,000 new residential units and 23 acres of parks and public space.
The big players: Waterfront Toronto, City of Toronto, Province of Ontario, Government of Canada.
Residential mix: The project include 243 units of affordable residential rental units in three buildings. Two large-scale, market-value developments will also be included in the site. On the eastern side, Urban Capital is building the four-phase River City project that will bring 1,100 loft-styled condominium and townhouse units to the area.
The West Donlands will also the creation of the Canary District, with homes built by Dundee Kilmer. During the Pan Am/Para Pan Games, part of the new community will feature the Athlete's Village and house more than 10,000 athletes and team officials. Post-games, Phase 1 will see the creation 805 units of market condominiums, five per cent of which will be reserved as affordable ownership. The second phase will see the development of roughly three blocks in the area.
Commercial space: Both River City and Canary District will feature boutiques, stores and restaurants at grade.
Institutional space: The project will include a new YMCA recreational facility as well as a George Brown College student residence.
Public space and amenities: Spanning 18 acres along the eastern edge of the site, Corktown Common opened in the summer of 2014. Part of the space doubles as a flood protection zone and the site is home to extensive naturalized areas, including playgrounds, a splash pad, athletic field, open lawns, a marsh, tables, benches, a barbecue, a fireplace, bike paths, a boardwalk and an off-leash dog area.
Beneath the Eastern Avenue, Richmond and Adelaide overpasses, the first phase of Underpass Park opened in 2012. It features a skateboard park, basketball hoops, swings and climbing structures.
Status: Under construction. Much of the project will be ready in time for the Pan Am/Para Pan Games in August 2015.
Downsview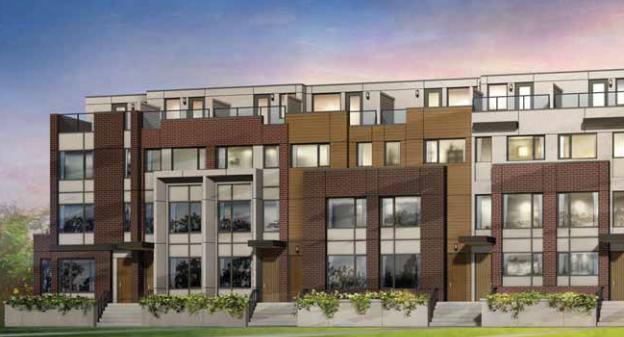 Where: Jane Street and Bathurst Street to the west and east, and Finch Avenue and Highway 401 to the north and south.
Background: When the former Canadian Forces Base Toronto was closed by the Government of Canada in 1994, Downsview Lands was established. A crown corporation, Canada Lands Company, currently owns the site though there has been a lot of back and forth between city of Toronto councillors who have want the land in the hands of the City of Toronto. There has been considerable concern in the neighbourhood about the possibility of selling parkland for redevelopment. Parts of the area, including the William Baker area, was home to a ghost town of empty military housing that was demolished in 2012.
Redevelopment size: The entire parcel, including the park space, is 572 acres in total. About 294 acres will be kept as park space.
The big players: Canada Lands Company, Mattamy Homes, Urbancorp.
Residential mix: It has been predicted that 7,310 units of housing will be built on the Downsview Lands over the decades, which will house an estimated 16,082 people. One of the early projects currently under construction, Downsview Park (pictured above) will be home to 348 townhouses and houses. There are three neighbourhoods that will see residential development: Stanley Greene, which will see both low-rise and mid-rise housing, the William Baker neighbourhood that will rise near the new subway station and GO stop under construction on the extended Spadina line, and Sheppard, which will be a mixed-use neighbourhood alongside the park and neighbouring sports facilities.
Commercial space: The mixed-use project is expected to see 65 acres of space devoted to a research-technology business park in Employment Area A. Meanwhile, Employment Area B would be more of a cultural campus, featuring small craft industries, restaurants, theatres, galleries, retail and services and markets. Employment Area C will focus on office, sports and entertainment and retail uses. Employment Area D will largely be home to retail. Employment Area E, the current Bombardier Aerospace Lands, will remain as they are.
Institutional space: The military research station in the area will be maintained.
Public space and amenities: According to the City of Toronto's Downsview Area Secondary Plan, the development framework calls for 218 acres of park space on the east side of Keele, and a minimum of four acres of park east of W.R. Allen Road.
Status: Under construction.