Mayor John Tory pitches tax hike to fund transit & housing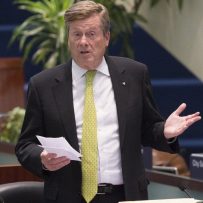 Toronto taxpayers may have to dig a little deeper. Average homeowner can expect to pay $43 more per year starting in 2020.
Mayor John Tory says he will go before council later this month with a plan to increase the City Building Fund in the upcoming 2020 budget — initially meant to top out at 2.5% by 2022 — but now expected to peak at 10.5% by 2025.
"By approving an increase in this levy … and extending it over the next five years, we can raise needed funds that will be dedicated to improving our existing transit system and building more affordable housing across our city," Tory said Wednesday in his keynote address at the Canadian Club.
"Ensuring this is dedicated funding, unlike our general property tax revenue, will protect it through this term and beyond so that it is collected and spent for one purpose and one purpose only — building up and investing in our transit and housing infrastructure."
The move is expected to raise $6.6 billion, he said.
Pitched by Tory in 2015 and approved by council in 2017, the building levy started at 0.5% and was meant to grow by 0.5% each year until 2022 — on top of both existing and future property tax hikes.
The 2017 average homeowner's $2,675 tax bill would have gone up $13 as a result of the impact of the levy in its first year. That amount would havegrown to more than $65 by 2022.
Tory said that once he hits homeowners with his increase, they'll pay an extra $43 per year.
Mayor's office spokesman Don Peat said funds collected from the levy are specifically earmarked for both affordable housing initiatives and maintaining transit.
Money set aside for the TTC would go towards its state-of-good-repair program — which the mayor said Wednesday morning is at $33 billion over the next 15 years, $24 billion just maintain the status quo.
Part of the province's $30-billion transit plan unveiled earlier this year, Peat said, is the freeing-up of city money initially set aside for system expansion, allowing the TTC to spend that instead on upkeep of the network.
Affordable housing dollars would go towards projects that encourage developers to build attainable housing.
"That would help meet the city's commitment to its new 10-year housing plan," Peat said.
The $23.4 billion HousingTO action plan — of which the city plans on contributing $8.5 billion — includes new affordable rental units, assistance for first-time home buyers, and revitalizing existing rental units.
Hikes to the City Building Fund aside, the mayor still intends to enter the 2020 budget season aiming at keeping property tax increases tied to the rate of inflation, Peat said.
By the numbers:
Existing City Building Fund levy: 0.5% in 2017, growing by 0.5% every year until reaching 2.5% by 2022
Proposed change: Increasing levy by 1% in 2020 and 2021, topping out at 10.5% by 2025.
Average homeowner property tax increase: $43 per year
Expected revenue: $6.6 billion
bpassifiume@postmedia.com
On Twitter: @bryanpassifiume