Mayor-elect John Tory unveils his new team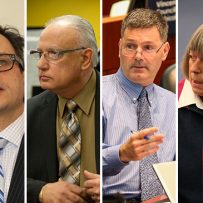 Mayor-elect John Tory is putting a mix of veteran and second-term councillors in top positions in his new administration, but has largely shut out left-leaning voices.
Tory — who ran on a promise of uniting the city — will appoint four deputy mayors from four corners of the city and from across the political spectrum.
Denzil Minnan-Wong, a fiscally and socially conservative councillor, will serve as the actual deputy mayor, whose role is to act in place of the mayor whenever Tory is unable to perform his normal duties. He replaces outgoing deputy, Norm Kelly, who largely took over that role after council stripped outgoing mayor Rob Ford of most of his powers last year.
Councillors Vince Crisanti, Glenn De Baeremaeker and Pam McConnell will also be named deputy mayors representing the west, east and south ends of the city respectively (Minnan-Wong represents the north). Their roles — echoing a move by former mayor David Miller, who appointed three deputies in his first term — will be largely ceremonial, including representing the mayor at city events.
But Tory's executive and picks for key positions include many of the councillors once appointed by outgoing mayor Rob Ford with no significant appointments for left-leaning councillors, as well as those representing downtown wards. In recent days, those councillors had hoped to see some representation on Tory's new slate put his picks have signalled what some behind-the-scenes worry will be a disappointing beginning to the new term.
"They've given no meaningful role to any New Democrat," said Gord Perks, the left-wing councillor for Ward 14 (Parkdale-High Park), pointing out McConnell's new position as deputy is not one of power. "In terms of actual authority, he's given it to Councillor Minnan-Wong."
                                                                                                                               TORONTO STAR STAFF
Councillors Denzil Minnan-Wong, Vince Crisanti, Glenn De Baeremaeker and Pam McConnell will be named mayor-elect John Tory's deputy mayors.
A source in the mayor's office said appointing McConnell — a veteran, progressive downtown councillor for Ward 28 (Toronto Centre-Rosedale), now in her seventh term — was meant to be "meaningful."
"We talked about 'One Toronto' and bringing the city together and listening to those voices," the source said of Tory's campaign promises. "He will be listening to voices from across the spectrum."
The list of appointments provided to the Star also outlines the group of 11 that will fill out Tory's executive committee and form his slate of trusted advisers that considers key issues. In the past four years, those topics have included the island airport expansion, a casino on the waterfront, and special taxes for transit.
The mix of councillors on Tory's executive sees the return of five names appointed by Ford during his term — including Michael Thompson, Gary Crawford, Frank Di Giorgio, Cesar Palacio and David Shiner. Tory has also appointed Councillor Jaye Robinson, who Ford fired from his executive after she urged him to deal with problems of substance abuse head on.
It is an executive — filled out by Councillors James Pasternak, Paul Ainslie, Michelle Berardinetti, Ana Bailao and Mary-Margaret McMahon — that sees a return of female voices to Ford's previously all-male group. It also holds five Scarborough-area councillors, who represent the east end of the city where Doug Ford dominated in the October election.
None of Tory's appointments include the six new members of council.
"What I've seen is that the mayor is reaching out and delivering on his promise to show more diversity, which is reflected in having four deputy mayors," said Minnan-Wong. "That diversity is also reflected in the makeup of the executive as well."
    Mayor-elect John Tory's executive team
He said the executive appointments also recognize the talent of those like Crawford, who is being tapped as budget chair, and Robinson, who will helm the public works and infrastructure committee — which, with the largest budget, deals with items including gridlock and garbage collection.
"It's showing that the mayor is keeping his word about bringing in a new team and there's a lot more balance," Minnan-Wong said.
On the TTC board, Tory is recommending the up-and-coming Councillor Josh Colle, a centrist who rose to prominence in 2012 when he became the face of opposition to Ford's budget slashing.
Apart from the deputy mayor and chair positions, council has to approve the recommendations during its first meetings.
Absent from all of Tory's picks — despite being celebrated by fellow councillors and also Premier Kathleen Wynne just this week as masterfully taking over control of council affairs in Rob Ford's absence — is outgoing deputy Kelly.
"The mayor-elect had a great meeting with Norm today," the source in the mayor's office said Sunday, adding potential roles for the Scarborough councillor were discussed. "He just felt like he wanted to take some personal time."
Kelly could not be immediately reached for comment.
Also notably absent from the list is Ford, who returns as a councillor for his old Ward 2 (Etobicoke North) while undergoing chemotherapy treatment.
Though the speaker of council is chosen from amongst all members, Tory has recommended current right-wing speaker Frances Nunziata return to the role, with Councillor Shelley Carroll taking over as deputy speaker from ousted councillor John Parker. Those positions are both voted on by all of council this week.
Rumours of both the Nunziata's and Minnan-Wong's appointments did not sit well with all residents. Much of the negative reaction online questioned whether the appointment of the staunch Ford insiders signalled the wrong message from Tory.
"The mayor wanted to make sure that the folks that he's working with in these positions are a combination of people who have experience in the job and fresh faces," the source from the mayor's office said.
The biggest shakeup takes place on the city's seven standing committees — whose chairs form part of Tory's new executive. Only Thompson and Palacio have kept their chair seats on the economic development and licensing and standards committees. All of the remaining new chairs are also new to the committees they will now helm.
The source in the mayor's office said picking those roles was a "balancing act" as Tory again sought a combination of "fresh faces" and veteran voices.
As the Star previously reported, Tory will take a seat on the police board he has criticized recently deteriorating relationships with the service and the public. Joining him will be Councillors Carroll and Chin Lee, replacing Thompson and Nunziata.
Tory has recommended Bailao maintain her role as chair of the special affordable housing committee.