MAY 2020 RENT REPORT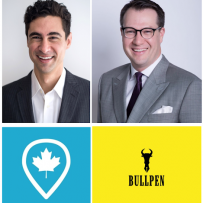 Although average rents in Canada were unchanged in April over March, rental prices for apartments and condo apartments listed on Rentals.ca were down 3.2% and 4.6% respectively month over month. Also, average monthly rents for all property types were down in April over March in some major cities including Toronto, Vancouver, Calgary and Ottawa.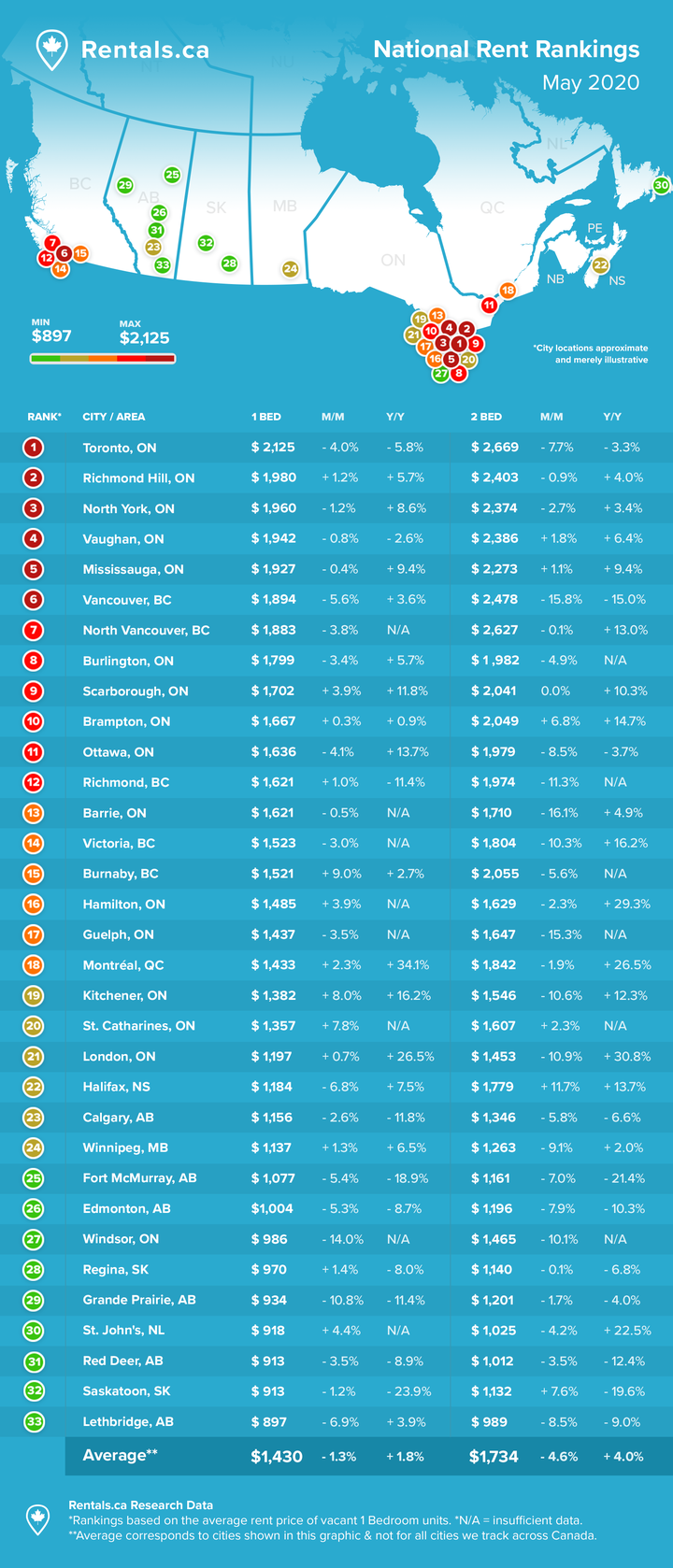 National Overview
With most of the country on lockdown, the majority of tenants are staying put for both financial and health reasons. Many large landlords are staying firm on their asking rents, willing to wait out the pandemic, offering incentives like $500 off or a free month of rent. Smaller landlords appear to be more willing to lower their asking rent to attract the prospective tenants that are looking for apartments.
The average rent for all Canadian properties listed for rent in April on Rentals.ca was $1,842 per month, unchanged month over month, and virtually unchanged from a year earlier at $1,844 per month. The median rental rate was $1,800 per month in April, a 5.9% increase from a year earlier and up $50 from last month (+2.9%).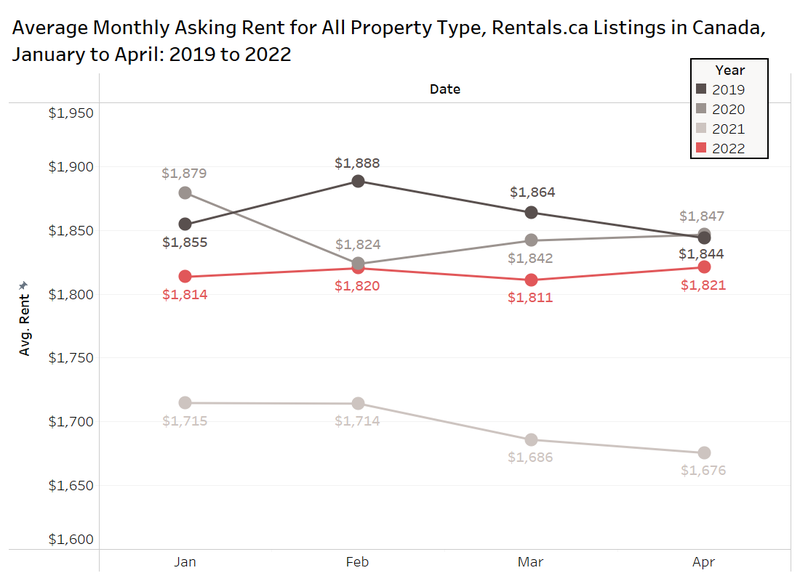 Average Rent by Property Type and Month
The chart below shows the annual change in average rent levels in Canada by property type for March and April of 2019 and 2020, the monthly percentage change in rent is shown for April in both years.
The most expensive units are single-family homes, with landlords asking $2,470 per month on average in April 2020, compared to $2,268 for condominium apartments, $1,873 for townhouses, and $1,491 for rental apartments.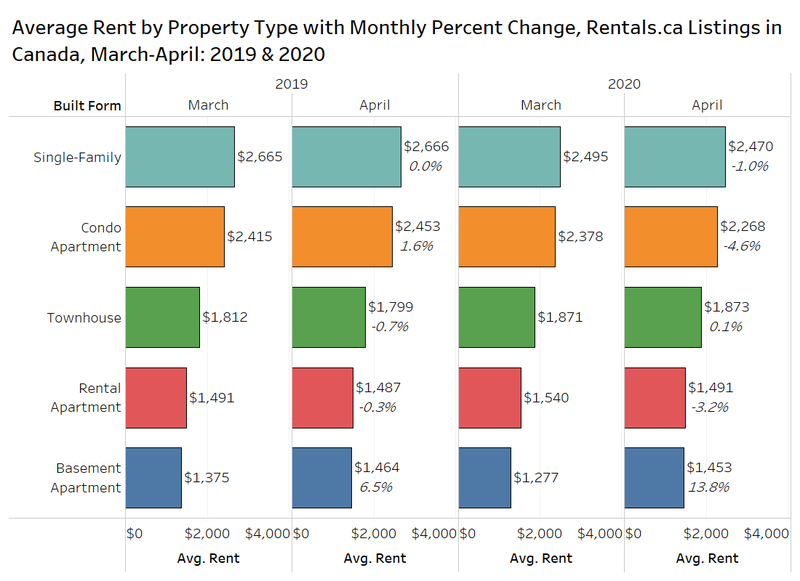 Single-family homes experienced an annual decrease in average rent between April 2019 and April 2020, dropping by 7.4% annually (from $2,666). Single-family properties also declined month over month, dropping 1.0% from $2,495 to $2,470.
Condo apartments experienced almost the same level of annual decrease in average rent, declining 7.5% year over year between April 2019 and April 2020, and posting a hefty monthly decline of 4.6% between March and April.
Townhomes posted the highest annual rent growth this month, increasing by 4.1% from $1,799 in April 2019 up to $1,873 in April 2020. Average rents remained almost the same from March to April of this year, with a decrease of 0.1% monthly.
Rental apartments, which make up the majority of the listings on Rentals.ca, experienced a small year-over-year increase (0.3%), but a month-over-month decrease (3.2%). Given the large size of rental apartment listings, it is the most reliable property type to review and is the most reflective of rental market conditions nationally.
Rent by Bedroom Type
The line chart below presents data on the average rent by bedroom type for all property types in Canada from January 2019 to April 2020. Average monthly asking rents are shown for January 2019, April 2019, March 2020 and April 2020.
One-bedroom units accounted for 40% of the listings nationally on Rentals.ca in April of 2020, and the average rent for these units of $1,638 per month is down 0.6% annually and 0.7% monthly.
Two-bedroom units made up 38% of the total Canadian listings, but unlike one-bedroom units, experienced an annual increase in average rent of 3.6% to $1,956. On a monthly basis, the average rent was up 1.6% from April of 2019.
The largest decline occurred for five-bedroom properties at 7.7% year over year and 2.9% month over month. Five-bedroom homes account for less than 1% of listings on Rentals.ca.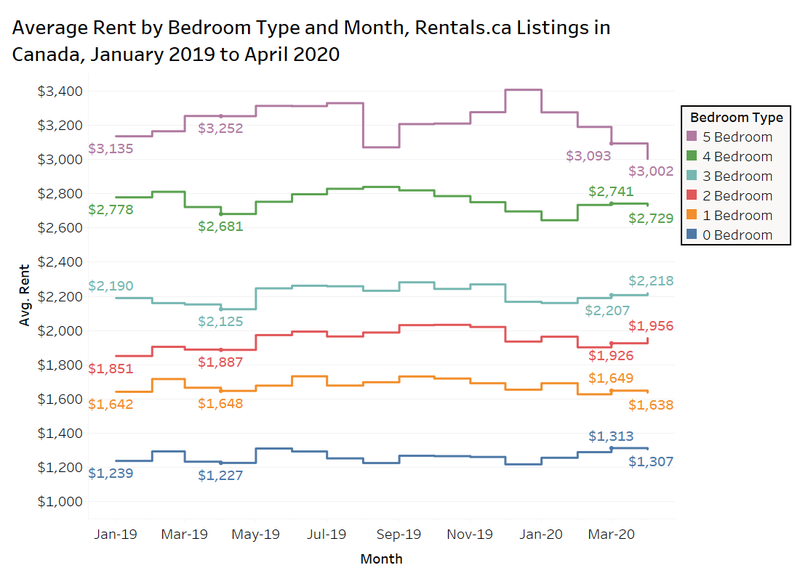 Rent Per Square Foot
The chart below shows the average and median rent per square foot (psf) for rental and condominium apartments in Canada by month since the start of 2019 based on Rentals.ca listings where the landlord or owner provided the suite's size.
Despite the hefty 4.6% decline in condo apartments rents and 3.2% decline in rental apartment rents from March to April, the rent per square foot actually increased month over month (average and median). This suggests that the decline in the average rent is likely attributable to compositional changes, as opposed to actual rent reductions.
Listings for condominium and rental apartments on Rentals.ca declined month over month for almost all size ranges, however, the size ranges above 800 square feet (sf) experienced bigger drops, suggesting a larger drop in luxury rental listings.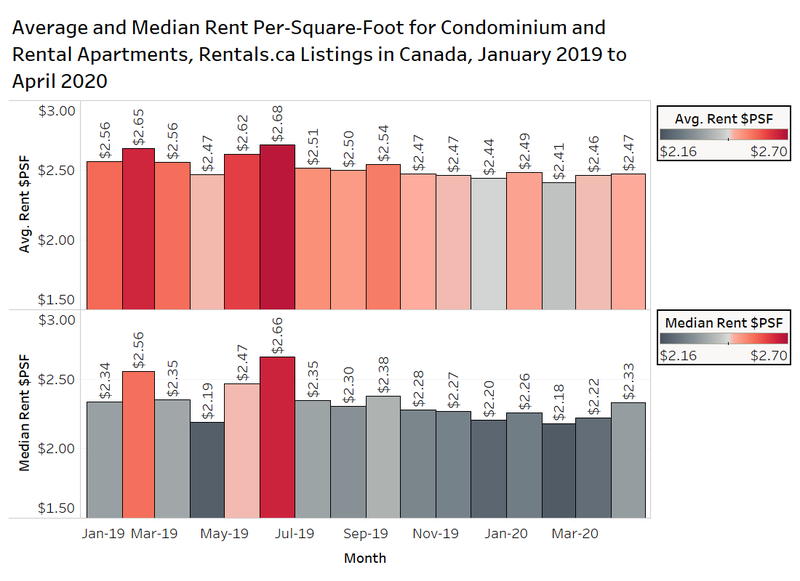 Provincial Rental Rates
On a provincial level, Ontario had the highest rental rates in April 2020, with landlords seeking $2,141 per month on average for all property types (median: $2,080). British Columbia had the second highest rental rate at $1,946 per month (median: $1,800), while Newfoundland and Labrador had the lowest at $1,001 (median: $855).
In the map below, median rents are shown by province for all property types in April, and in the chart below, the average rent and change in average rent month over month is shown.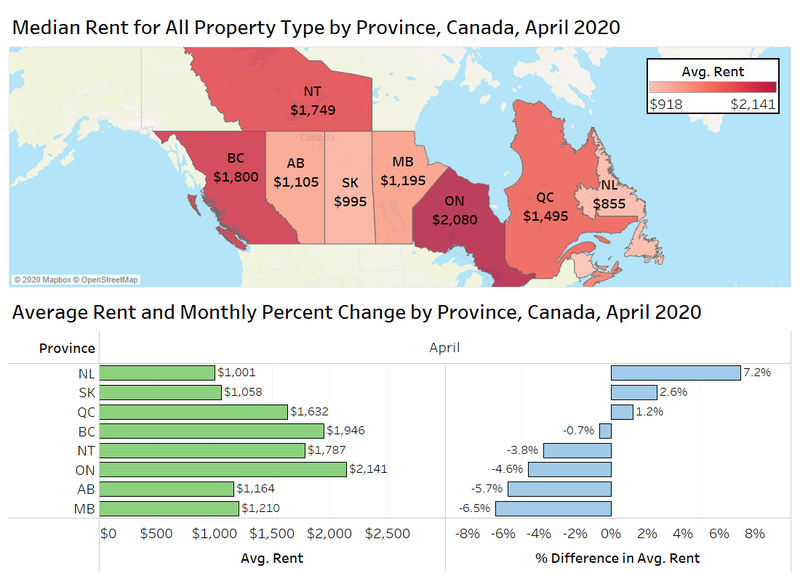 Average rent declined from March to April in three large provinces: Alberta dropped 5.7 per cent; Ontario showed a 4.6 per cent decrease and British Columbia was down 0.7% monthly.
Newfoundland and Labrador, although a small market, had the largest increase in the country, rising 7.2% to $1,001, but that likely has more to do with a change in the breakdown of listings than any major increase in demand. Manitoba experienced the largest month-over-month decrease in average rent, declining 6.5% from March to $1,210 per month.
Furnished Rental Rates
There has been much talk about COVID-19's impact on the short-term rental market with travel restrictions in place. Many hosts are seeing their activity grind to a halt, and there has been an increase of furnished apartments for rent according to many property listing agents.
There are four provinces with a noteworthy number of furnished rental and condominium apartments in Canada: Alberta, Quebec, British Columbia and Ontario. Just 2.3% of apartment listings on Rentals.ca in Alberta were furnished, compared to 15% in BC, 17% in Ontario and 25% in Quebec.
In British Columbia, the average furnished apartment is listed for 44% more than unfurnished apartments ($2,531 vs $1,752 per month), while the rent per square foot is 49% more. The average furnished apartment in British Columbia is actually smaller than the average unfurnished apartment (725 sf vs 767 sf). This is likely attributable to a high number of bachelors and one-bedroom apartments in Vancouver.
In Quebec, the average furnished apartment is larger than the average unfurnished apartment at 867 sf versus 824 sf, and comes with a rent premium of just under 30% ($1,956 vs $1,512 sf). The per-square-foot premium is smaller at 21% ($2.46 psf vs $2.03 psf).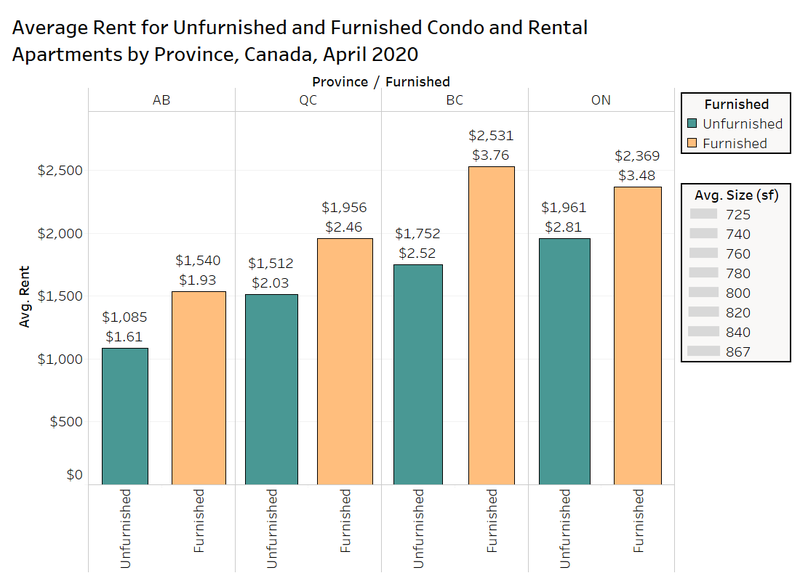 Municipal Rental Rates
The chart below presents data on the average rental apartment and condominium apartment rental rates by municipality and area in Canada for April 2020, with the monthly percent change in average rent shown on the right.
Toronto had the highest average asking rents in Canada in April for apartments (both tenures) at $2,305 per month (former City of Toronto boundaries prior to amalgamation), followed by Etobicoke at $2,243, then by Vancouver at $2,218.
The dramatic impacts of COVID-19 are being felt across the country. With the exception of Regina and Montreal, which saw increases of 1.6% and 0.6% monthly, all of the other areas reported on in the chart below are showing monthly declines in average rent, with decreases ranging from 1.6% up to almost 13%.
Several areas saw double-digit decreases — the former municipality of York saw a staggering monthly decline of 12.6%, with Edmonton and London both declining by 11.3%. Victoria and Ottawa decreased by 8.7%, while Calgary and Winnipeg declined 7.6%. Vancouver and Toronto declined by 6.8% and 6.0% respectively. North York, Hamilton, Scarborough, Etobicoke and Mississauga were the areas in Ontario that declined by less than 5%.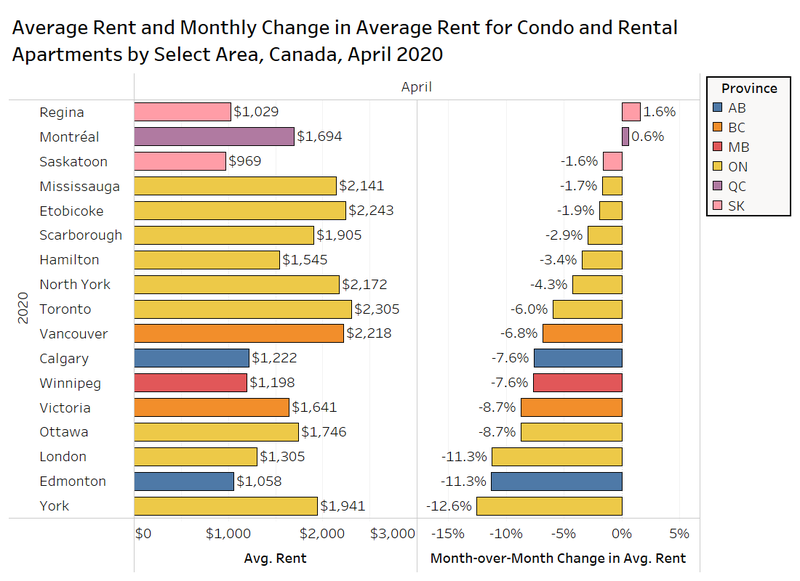 Despite the monthly declines in most municipalities and former municipalities, there were significant increases in annual average rent for condo and rental apartments in seven of the 16 areas surveyed. Average rent increased by 35% in Montreal, 30% in Hamilton, and 23% in London. At the other end of the spectrum is Saskatoon, which experienced a decrease in average rents of 28%. Toronto and Vancouver both experienced annual declines, with Toronto dropping by 5% and Vancouver by 9%.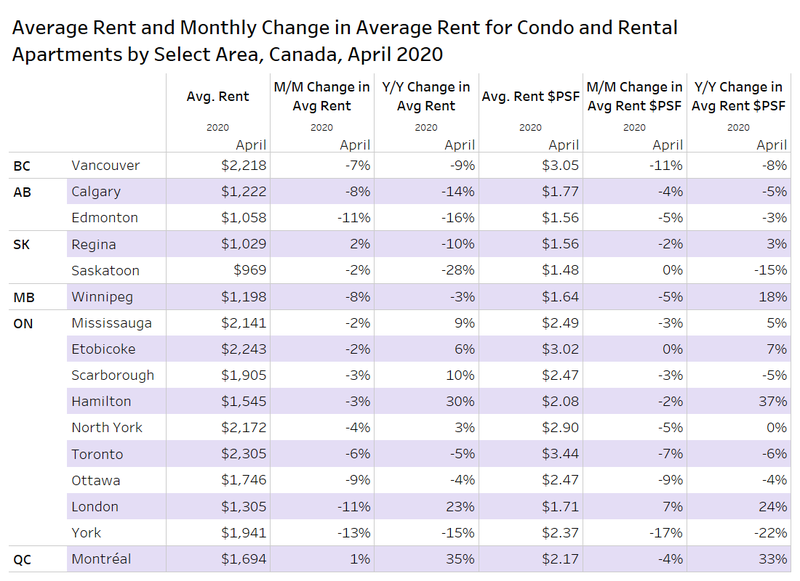 Toronto Insights
Rounded Unit Size in Toronto
At the start of the lockdown in Toronto, there wasn't much of a decline in rental rates for condominium and rental apartments, with minimal monthly declines in the prime unit sizes of 500 sf to 800 sf of 0.2% to 1.2%. The chart below looks at the change in the average rent by rounded unit size for condominium and rental apartment listings on Rentals.ca in the former City of Toronto.
However, that changed dramatically in April as landlords are responding to this lower-demand market by adjusting their asking rents. Every unit size range declined month over month from 300 sf to 1,400 sf, from a low of 3.7% to a high of 20.2% for suites rounded to 1,300 sf (keeping in mind the much smaller sample size of large units).
It is clear from the chart that demand has fallen more heavily for the larger and more expensive units than the smaller more affordable units.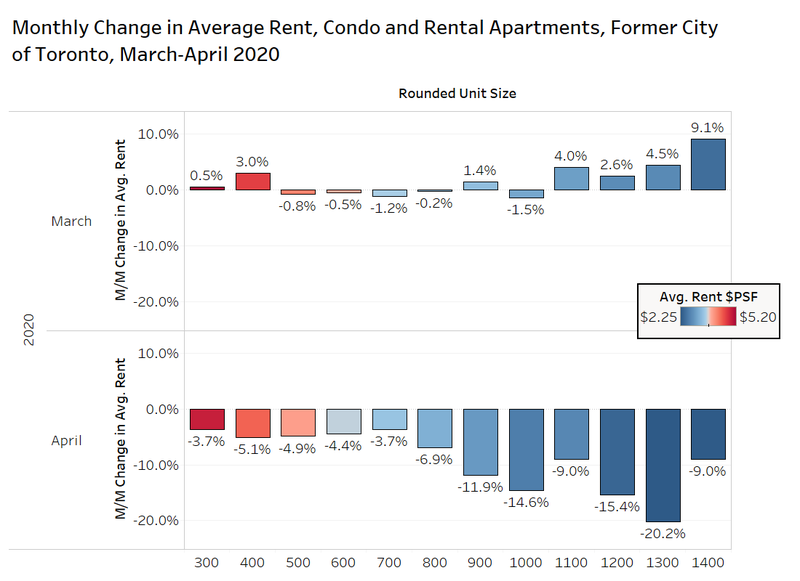 Average Condominium Apartment Rent Per-Square-Foot by Postal Code
The chart below presents data on the monthly change in the average rent per square foot for condominium apartments for lease in downtown Toronto.
The areas experiencing the biggest declines are the prime downtown markets M5V, M5J and M5H, at 8% to 13% decline month over month. The Yorkville area has also experienced a decline of 9.4% monthly – these are four geographic areas with plenty of short-term rental activity, which has likely depressed rental rates.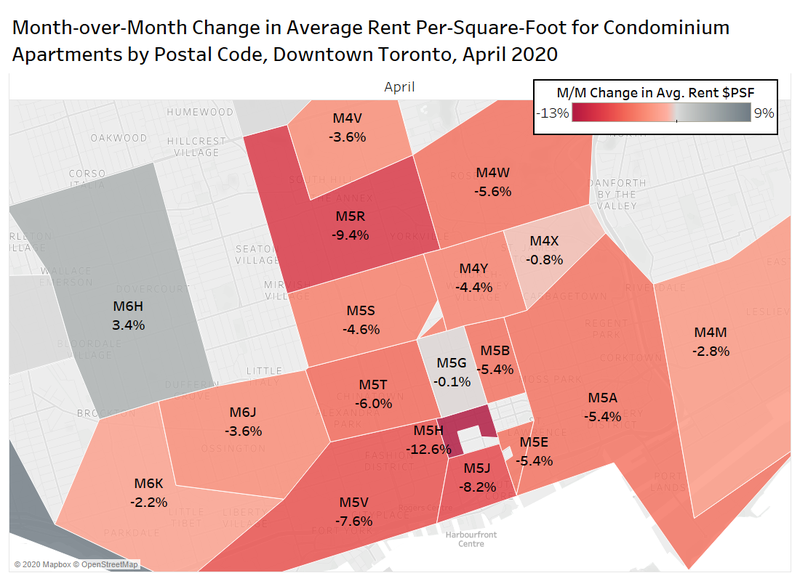 Average Rent Per-Square-Foot by Project
The chart below lists a selection of condominium apartment buildings in Toronto with 10 or more unfurnished rental listings on Rentals.ca in both March and April. The only project that didn't experience a decline in its average rent per square foot from March to April was the Residences of 488 University, with a 5% increase to $3.80 psf. Several projects experienced declines of over 10% month over month, including several highly desirable properties like Ice Condos – Phase I in the South Core, 87 Peter in the Entertainment District, and the Thompson Residences in King West.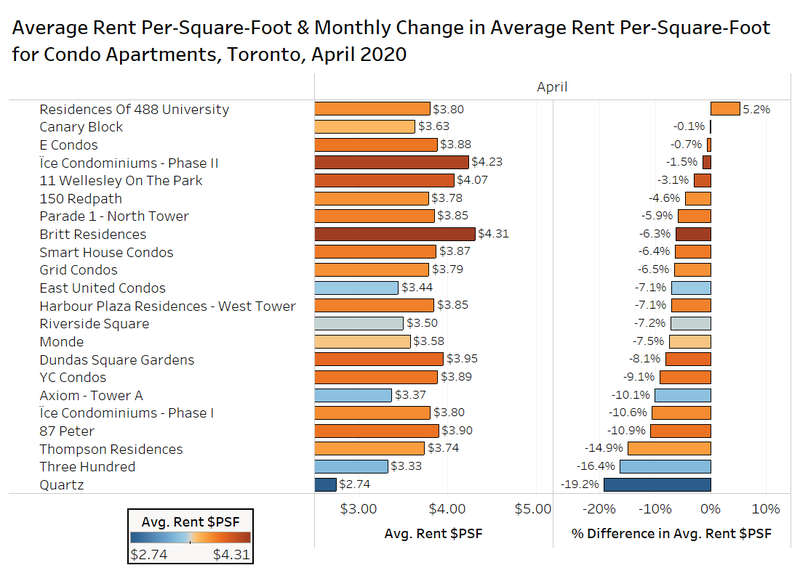 Commuting
How far are prospective tenants willing to commute to their place of employment by car? Data from Local Logic shows that on average people in the Vancouver Census Metropolitan Area (CMA) are looking for a place to live 16 km away from their place of employment in April, down slightly from 17 in March.
Prospective tenants in the Toronto and Montreal metro areas are looking the same distance away from work at 14 km. At the CMA level, there are a lot of people living in car-centric suburbs, when looking at the municipal level data, the average prospective tenant in Vancouver and Montreal was looking 8 km away in April, compared to 11 in Toronto.
So far, it doesn't look like COVID-19 is significantly altering tenants' commuting decisions.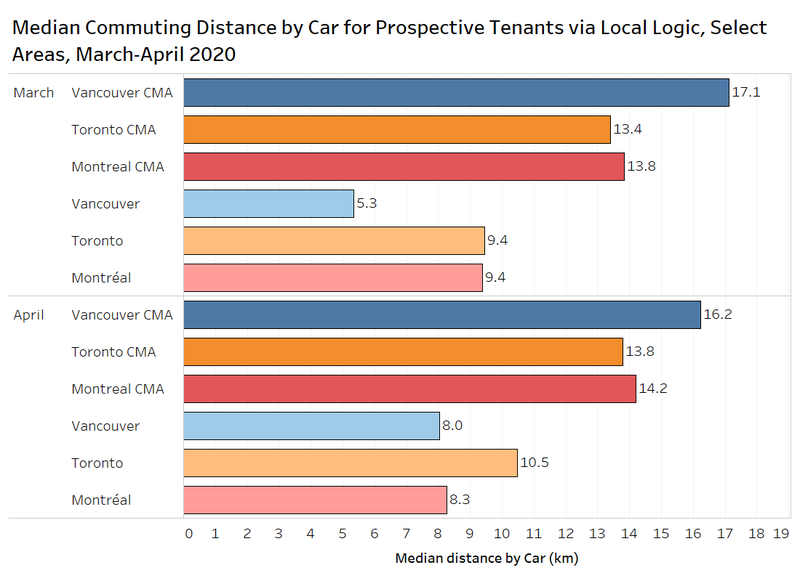 Conclusion
For most participants in the rental market, their decisions are on hold during this global pandemic. Many tenants don't want to search for an apartment during this health pandemic, despite the quality of virtual tours. They don't want their current apartment to be opened up for viewings, and they don't want to move and expose themselves to the coronavirus in any way.
Many extremely tight markets with limited vacancies are now flush with supply, and rents are declining in many of those markets. Surprisingly, the average rental rate in Canada was virtually unchanged month-over-month, rising from $1,841.54 on average in March to $1,842.35 in April.
Condominium and rental apartments experienced monthly declines of 4.6% and 3.2%, respectively, but rent per-square-foot increases, suggesting much of the decline is attributable to a lack of demand and listings of luxury apartments.
Average rents in Canada's two biggest markets, Toronto and Vancouver, declined by 6.0% and 6.8% month over month, respectively. A lack of immigration, a decline in international students, a decline in short-term contract employment, and continued affordability concerns because of job losses are to blame.
However, as discussions continue on opening up the economy, Rentals.ca has experienced a noteworthy increase in website traffic after seeing a 35% decline in pageviews over the final two weeks of March. There appears to be some optimism about the recovery, despite what some of the figures above suggest.
Story by: Rentals.ca and Bullpen Research & Consulting