Marketing's Role in Your Business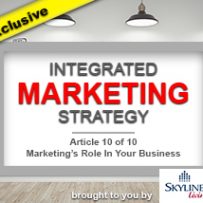 Over the past year, I've written on many different aspects of marketing. The key point to take away from this series of articles is that marketing is how you share what matters – whether it's your quality, affordability, security, community, or something else entirely – with your customers and the outside world. It's a conversation.
To truly work effectively, everyone in the company, from front-line staff to the CEO, have to be having the same conversation. Give your staff concrete examples of things they can do to enhance the customer experience and communicate your company's message.
Recap of 2015
Consider your marketing strategy. Assess your buildings' strengths, weakness, opportunities, and threats, and analyze your competitors. Figure out who your target audience is (generally, your ideal tenant), and focus on creating a message and strategy that will reach that audience.
Build a brand for your business. Make sure your communications are consistent with that brand, and that all sales, marketing, and customer service efforts are devoted to fulfilling the "brand promise."
Develop a digital strategy: be online, be mobile, and be reachable. With the majority of today's renters heading online for their search, it is vital that they can find you in their digital space.
Evaluate your advertising needs, considering both online and traditional advertising methods. Ensure that you are tracking and testing your ad campaigns, so that you can hone your efforts to ensure the most efficient use of your money.
Remember, marketing is more than just advertising. Customer experience and public relations are just two of many other aspects of marketing for you to consider when building a strategy. Every message that comes from a company, whether to a new customer, prospect, or even a complete outsider, should have a consistent message.
Implementing Your Strategy
While the creation of an integrated marketing communications plan will help guide marketing efforts for the year to come, you must be constantly evaluating your successes and failures throughout. Determine what is and isn't working early, so that you can recalculate your spending, re-evaluate your goals, and/or shift your strategy to be more effective. Be flexible so that you can respond quickly to the needs of your target audience and new trends that emerge.
Trends to Watch in 2016
2016 will continue the current trend of marketing budgets shifting even more toward online spending and away from traditional channels. Mobile will continue to capture internet market share. Google has already begun punishing websites that are not mobile friendly with lower search rankings. If you already have a mobile-friendly website, consider social media as a next step – if done well, it can improve not only search ranking but also consumer perception of your business.
Marketing, sales, and customer service, long considered separate, will meld into one customer-focused department. If you are a landlord with only a few buildings, you may already have one person doing all these jobs! For larger landlords, though, these departments may be operating separately without much communication. Consider how you can streamline their efforts to provide the best possible experience for your customers.
Last but not least, online reviews will gain greater prominence in Canada. I mentioned this briefly in my public relations post last month, but wanted to emphasize again how important these are becoming in the eyes of consumers. According to recent findings, as many as 88% of consumers trust online reviews as much as a personal recommendation. You may prefer not to open the door to these criticisms, but your tenants are probably posting them one way or another. Respond constructively to negative reviews, and encourage and reward positive ones.
Summary
You may not think you are doing "marketing," but you probably are. Each time your business communicates – whether to a current customer, potential customer, internal employee, or other stakeholder – you are marketing your business. The goal of this series was to encourage you to approach marketing intentionally rather than haphazardly. I hope you have enjoyed it!
About the author: Sarah Rodrigues is the Marketing Coordinator for Skyline Living, a division of the Skyline Group of Companies, which operates 170 apartment communities in 46 cities across Ontario, Quebec, Alberta, and British Columbia. She has worked in communications, project management, advertising, and marketing in a number of industries. Feel free to connect with her on LinkedIn.