Marketing & Outstanding Customer Service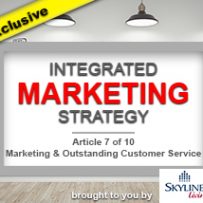 Story by: Sarah Rodrigues | Skyline Living
Depending on the size and structure of your company, customer service may be its own department, may be part of the sales or property management department, or may just be one of the many other things small landlords cover on their own as needed. This article will discuss how marketing contributes to customer service, and how important customer service is to a company's bottom line.
Remember, marketing is not just advertising. Companies that only focus on advertising believe that marketing stops when you make the sale, but more and more companies are realizing that providing outstanding customer service not only satisfies current tenants but also attracts new tenants. Whether customer service is integrated into another department or stands alone, it's important to understand that it is still part of marketing.
Making the Sale
Traditionally, marketing was viewed as all the activities leading up to the actual sales transaction – in the rental apartment industry, this would be the point where the prospect is viewing the unit and needs to be "sold" on signing the lease. In some companies, there is a rigid division between marketing and sales and everyone is strongly encouraged to keep to their own area.
In reality, the lines are blurry. An apartment's marketing – the company's brand, reputation, advertising, website, photos, etc. – has promised a certain experience for the prospect. If the sales team doesn't deliver on marketing's promise, the prospect is less likely to convert to a tenant.
The best situation is to incorporate both marketing and sales into an outstanding customer service strategy. This ensures that the prospect gets exactly what they were promised. For example, if your marketing and advertising promise a one-bedroom unit available November 1, $500 off the second month, and a free cookie during their viewing, your building staff can ensure that the sales experience lives up to those promises (or, if it can't, adjust the marketing accordingly). Both marketing and sales should strive to make every potential customer experience memorable, useful, and honest.
Tenant Retention
The best way to keep tenants satisfied is with outstanding customer service at every interaction. Marketing can be integrated into this objective easily, because marketing is all about creating positive experiences associated with a product or company.
At Skyline, the marketing team is copied on customer service feedback to help identify trends and red flags. Marketing also contributes to staff training, helps develop new customer service initiatives, and provides direction and assistance for tenant events and activities. By incorporating marketing into customer service we can leverage the creativity and perspective of the entire team.
Promotable Guarantees
In marketing, you will often here the term Unique Selling Proposition (USP); it refers to what makes your product or company stand out in the eyes of your customers. Customer service guarantees make great USPs, but only if customer service actually follows through on them. For example, marketing can promote a 48-hour turnaround on maintenance requests, or 24-hr emergency service – these USPs will make prospective tenants more inclined to rent because they know they'll be looked after. Customers who are promised and receive an outstanding customer service experience will be more likely to stay in their apartment, and more likely to refer others.
Brand Advocates
Every brand, no matter what the product, seeks to find "brand advocates" – these are the customers who, for no reason other than love of a product, actively go out of their way to tell other people how great it is. Brand advocates are invaluable to marketers because they are providing a verified, unsolicited recommendation to people they have a personal connection with, for free.
Many companies use tenant testimonials to demonstrate their customer satisfaction. These are a good step, but can't compete with an actual word-of-mouth recommendation from a trusted friend, family member, or thought leader.
When you provide outstanding customer service to a current tenant, particularly if you do it on a regular basis, that tenant will tell his friends, share his experience on social media, and be happy to recommend you when he knows someone is looking for an apartment. These leads are invaluable because prospects are more likely to trust the opinion of someone who actually lives there.
The Bottom Line
In the housing industry, where customers sign a lease agreement or commit to a 15-year mortgage, it's easy to focus on making the sale and not worry about improving the customer experience. This is a short-sighted view in apartment rentals, where retention and referrals are key. Marketing, sales, and customer service, working together, can improve the customer experience to ensure that current tenants aren't just happy, they're staying longer and referring qualified leads, which not only increases profitability but also the perception of your company.
About the author: Sarah Rodrigues is the Marketing Coordinator for Skyline Living, a division of the Skyline Group of Companies, which operates 142 apartment communities in 46 cities across Ontario, Quebec, Alberta, and British Columbia. She has worked in communications, project management, advertising, and marketing in a number of industries. Feel free to connect with her on LinkedIn.